Thanksgiving Dinner with Crouton & Ditalini
November 28, 2008
As always, Crouton and Ditalini had a big crowd over for Thanksgiving.  We had traditional turkey, smoked turkey, stuffing, cranberry sauce, candied sweet potatoes, mashed potatoes, gravy, green bean casserole, rolls, Waldorf salad, and apple and pumpkin pie.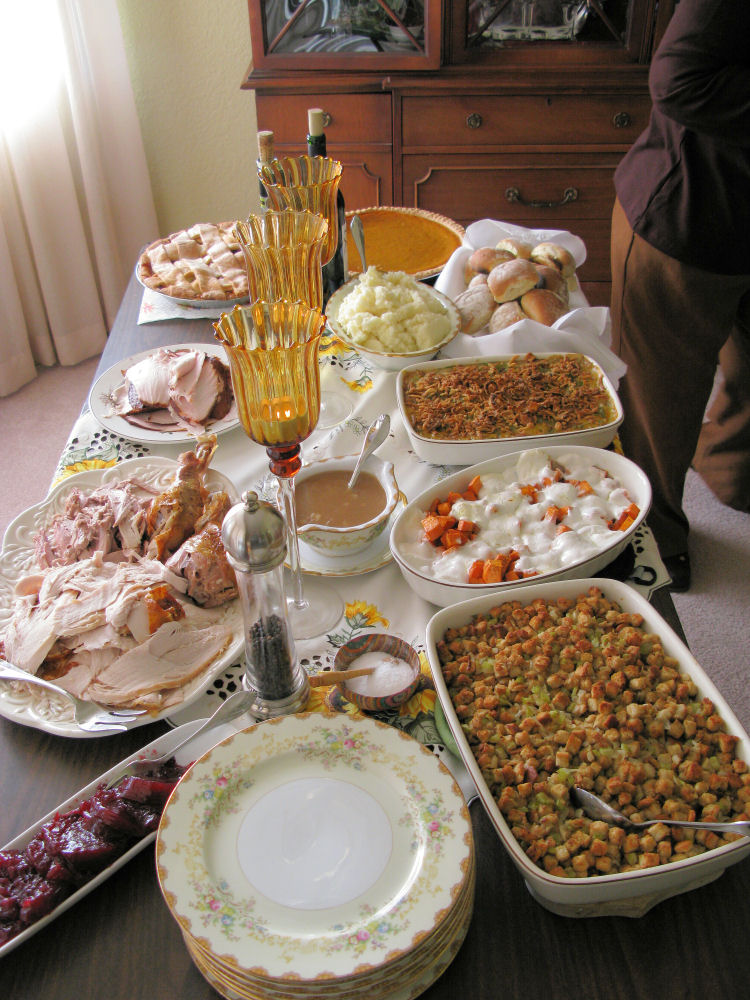 Everything was from traditional recipes, so I won't go into details here, but I did want to say a little about smoking a turkey breast for those of you who are into smoking.
I use a Weber Smoky Mountain cooker, which is a wet smoker: it has a water reservoir between the hot coals and the cooking racks.  When the coals were ready, I half-filled the reservoir with boiling water, placed a throwaway aluminum drip pan on the lower cooking rack, placed the turkey breast side up on the top cooking rack, covered the smoker, tossed wet wood chips onto the coals, then closed the access door.  I used mesquite chips, though I've always used hickory in the past.  About every 45 minutes, I added a dozen briquettes to the coals and tossed in more wood chips.  It took about four hours for the turkey breast to come up to an internal temperature of 165 degrees (I was careful to always insert the meat thermometer in the same place so as not to poke holes in the breast and drain out all the moisture).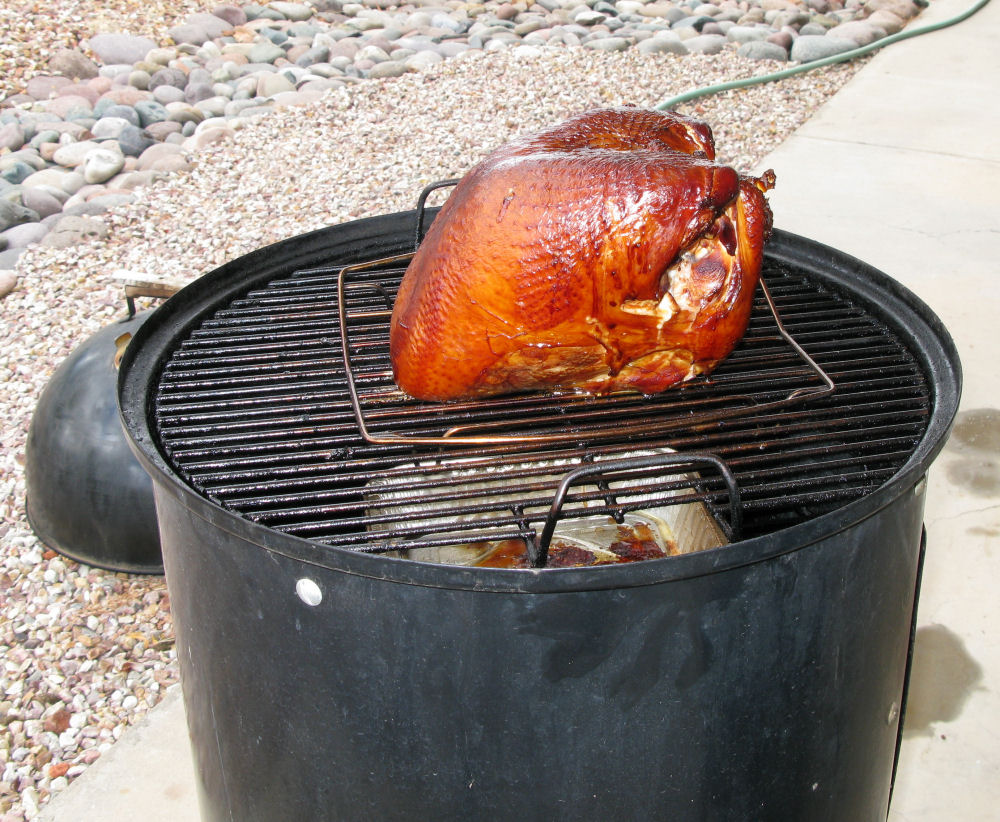 There is the turkey breast on the smoker, about half-way through the smoking process.  You can see the drip pan on the lower cooking rack; the water reservoir and hot coals are down below.  Normally you would never take the cover off, but I wanted to take this photo for you.
The smoked turkey has a tendency to upstage the traditional turkey, and for that reason I usually smoke something else to serve with traditional turkey.  In past years I've smoked duck and goose.  We're looking forward to Christmas, when I plan to smoke a brisket of beef . . . which I'll be writing about here, so check back.
Happy Thanksgiving from Crouton & Ditalini deMenthe!
---
About Crouton deMenthe
Amateur cook and barbecue fanatic.
---

Amateur cook and barbecue fanatic.