A Birthday Dinner with Friends
November 16, 2008
In these recessionary times, sharing dinner at home with friends is becoming a larger part of our social life.  If it's a friend's birthday, so much the better.  Our buddy Rudy from Las Vegas came to visit this weekend; since his birthday is Monday we invited our posse over to celebrate.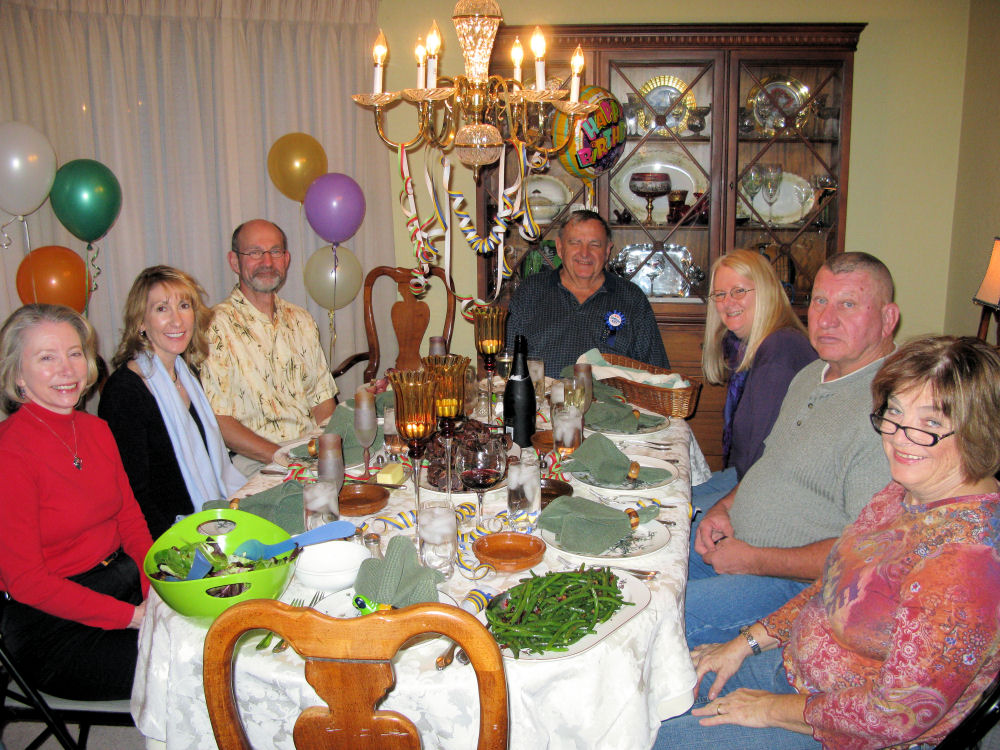 Mary Anne, Lorri, Darrell, Rudy, Gail, Ed, Ditalini
Ah, but what was on the table?  Salad, green beans with bacon and onion, seasoned new potatoes, and grilled lamb chops.  Ditalini prepared the salad, beans, and potatoes; I was in charge of the lamb.  Since we prepared everything using the TLAR method (that looks about right), I'll give you the TLAR version of the recipes:
Salad: Ditalini used a package of mixed greens from the corner Safeway, a small can of mandarin oranges, drained, and a sweet & sour dressing she made from olive oil, vinegar, and sugar.
Green beans with bacon and onion: Ditalini sautéed crumbled bacon and chopped onions in a frying pan.  She boiled the beans until just done, drained them, then tossed them with the bacon and onion.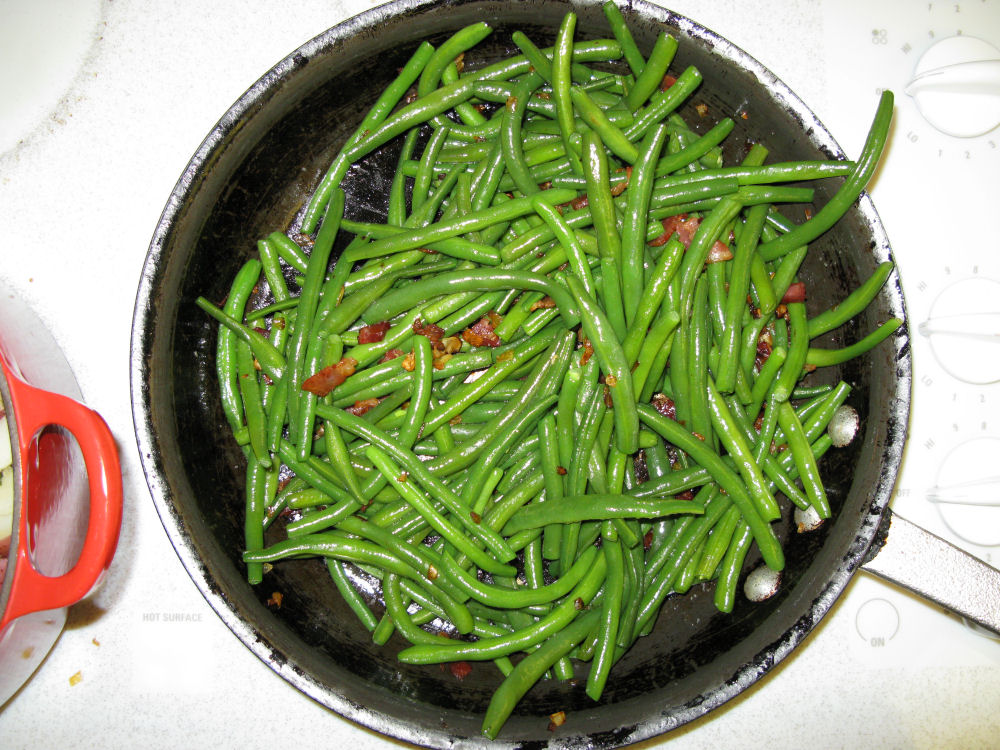 Ditalini's beans, just before serving
Seasoned new potatoes: the seasoning was butter with thyme, parsley, bay leaf, and a little pepper, lightly sautéed in a small frying pan.  Ditalini boiled the potatoes (skin on), then mixed them with the seasoning.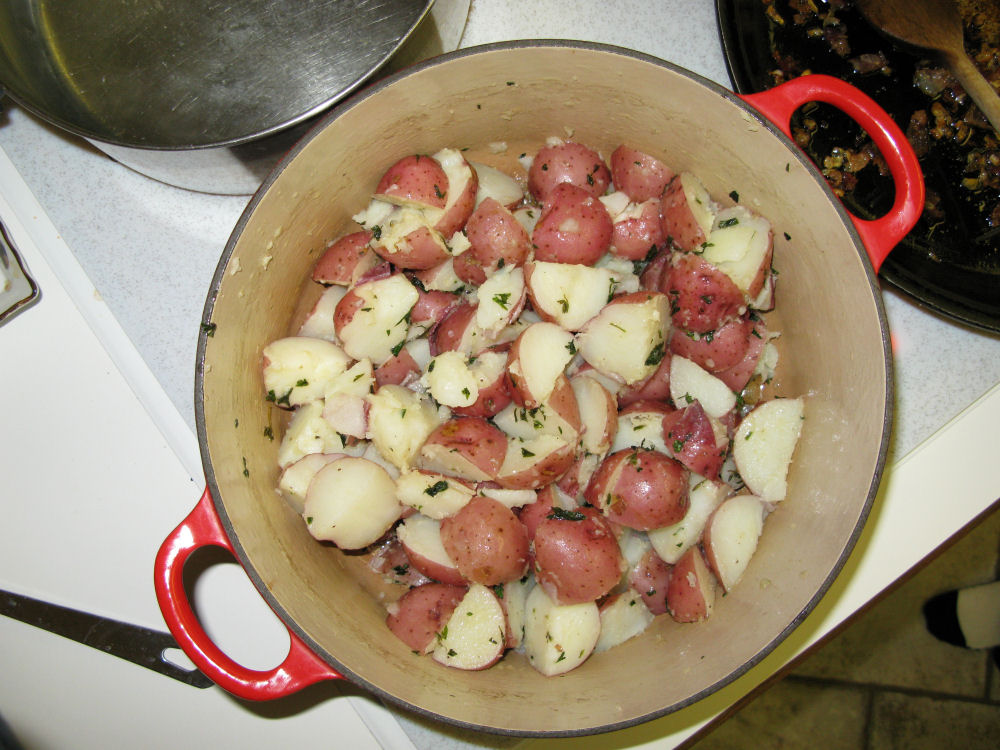 Ditalini's potatoes, just before serving
Lamb chops: I marinated the chops for three or four hours in cheap red wine with some dried rosemary.  I cooked them on a gas grill, about five minutes on each side.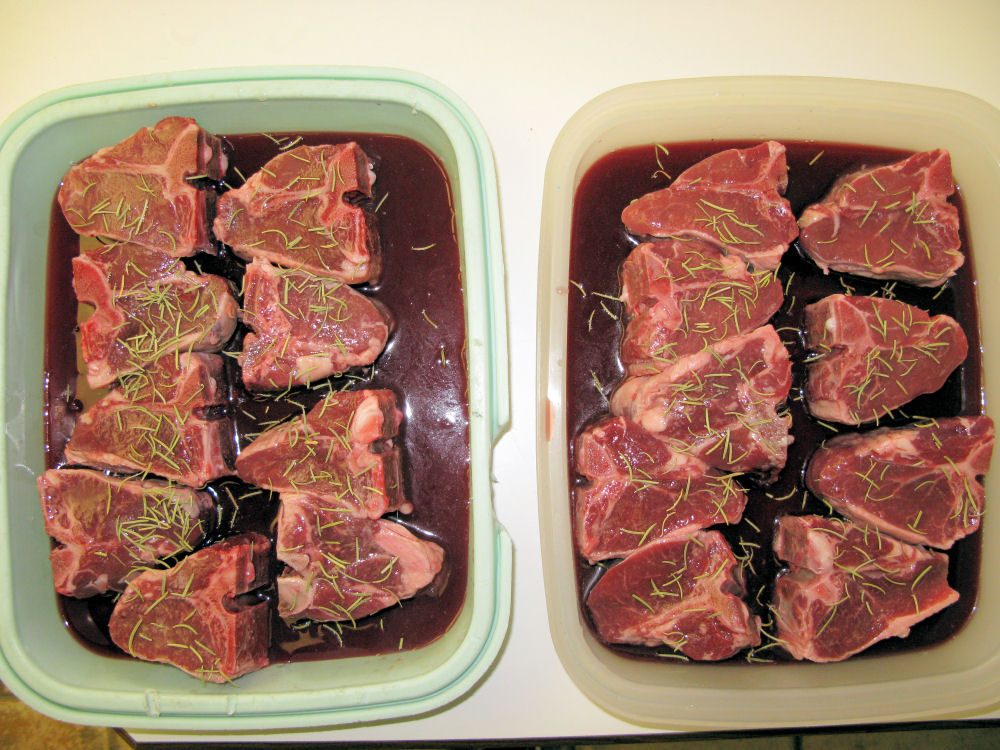 Crouton's chops, marinating
Mary Anne and Lorri brought a carrot cake from Costco, Darrell brought wine, Gail and Ed brought appetizers, and Rudy had a great birthday dinner.  What a great evening!
---
About Crouton deMenthe
Amateur cook and barbecue fanatic.
---

Amateur cook and barbecue fanatic.