Smoked Turkey Breast & Brats
December 1, 2009
What, more turkey?
In my previous post, I mentioned that I was going to smoke a turkey breast Friday, the day after Thanksgiving.  Since I still had a good bed of charcoal going after the turkey breast was done, I decided to throw some brats in the smoker.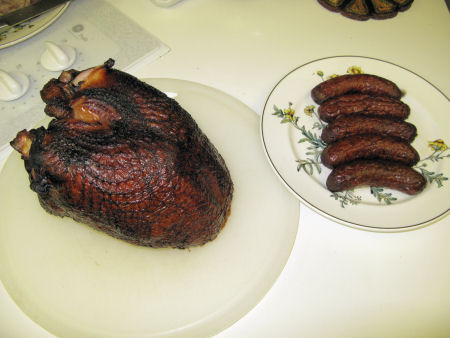 Turkey Breast Preparation
I brined the turkey breast overnight (about 8 hours for a 7-pound breast), rinsed it off, patted it dry, and rubbed it with salt & pepper.
Turkey Breast Smoking
I set up my smoker just as I always do, then let the breast smoke for about five hours.  I used hickory this time, rather than mesquite.  I started checking the internal temperature at about the four-hour mark, and took it off the smoker when it reached 170 degrees F.
Brat Preparation
You don't want to smoke raw sausage, so I boiled the brats in beer first to thoroughly cook them.
Brat Smoking
Once the brats were cooked, I put them on the smoker, placed a few hickory chips on top of the coals, and let them smoke for an hour.
The turkey breast was fantastic — moist and flavorful.  The brats were okay but nothing to write home about.  Next time I decide to smoke sausage I'll probably try hot Italian sausage (boiled in water first).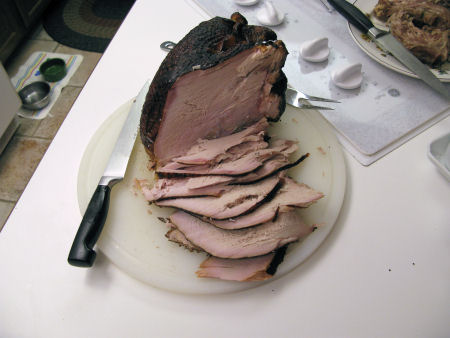 Amateur cook and barbecue fanatic.