Thanksgiving Dinner Away
November 27, 2009
Our friend Pomodoro Calde invited us over for Thanksgiving dinner.  We'd originally planned a DeMenthe family dinner at home, since our daughter Escargot was flying in from Las Vegas . . . but Pomodoro is a good friend and she promised an interesting selection of guests, so we went to her house instead.
Here's Pomodoro's groaning Thanksgiving board, approximately one second before we and the other interesting guests devoured everything in sight: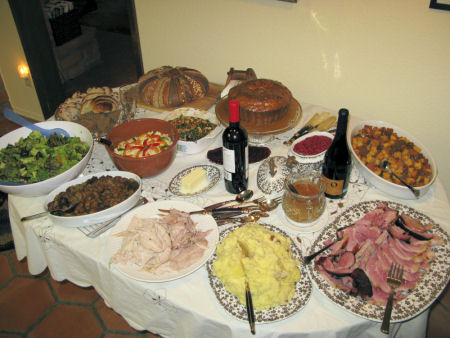 Today, the day after Thanksgiving, I'm feeling a trace of Puritan guilt.  Thanksgiving dinner is supposed to be a communal effort, no?  Yesterday I received . . . and received, and received . . . and gaveth not.
So today I'm putting a brined turkey breast (the one we'd originally planned to eat yesterday) on the smoker.  My guilt will be assuaged by nothing less, even if it means eating Thanksgiving dinner two days in a row.
And yes, I will photoblog it, so expect more anent that turkey breast!
---
About Crouton deMenthe
Amateur cook and barbecue fanatic.
---

Amateur cook and barbecue fanatic.