Cabbage & Hamburger Soup
December 1, 2009
Cabbage & hamburger soup? That sounds pretty, ah, pedestrian, doesn't it? Friends, take my word for it, this is great soup, especially if you serve it with crusty bread. Easy to make, too.
Cabbage & Hamburger Soup
Servings: 4
Difficulty: medium
Ingredients
1 medium onion, chopped
2-3 minced garlic cloves
1 lb ground beef
2 15-oz can beef or chicken broth
1 cup water
2 15-oz cans diced tomatoes
1 15-oz can tomato sauce
1 small green cabbage, chopped
2 carrots, diced
1 stalk celery, sliced thin, w/leaves
pinch of oregano
pinch of parsley
Directions
In large pot, sauté onions and garlic (do not brown). Add ground beef and break it up as it cooks. Add all other ingredients. Bring to a light boil, reduce heat, and simmer uncovered for 1 to 1 ½ hours.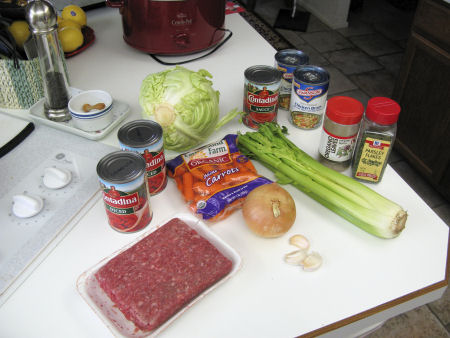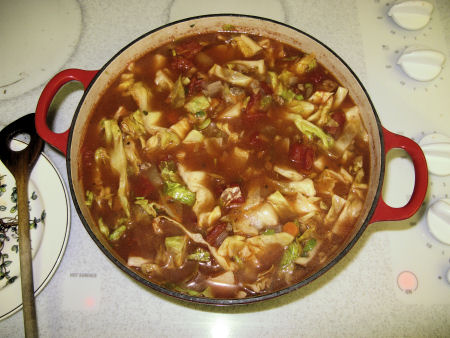 Notes
When you add the cabbage it'll really fill the pot, but don't worry, it'll cook down. Having tried both, we think it's better with beef broth, but if you're looking for a lighter flavor use chicken broth.
Try it . . . you'll be glad you did!
---
About Crouton deMenthe
Amateur cook and barbecue fanatic.
---

Amateur cook and barbecue fanatic.