Crouton's Chicken & Shrimp Fettuccini Alfredo
February 26, 2009
I took a package of chicken breasts out of the freezer this morning but didn't decide what to do with them until the afternoon. I knew there were a few shrimp in the freezer, so I decided on this and basically made it up as I went along. It was fun to prepare and cook, and easy too.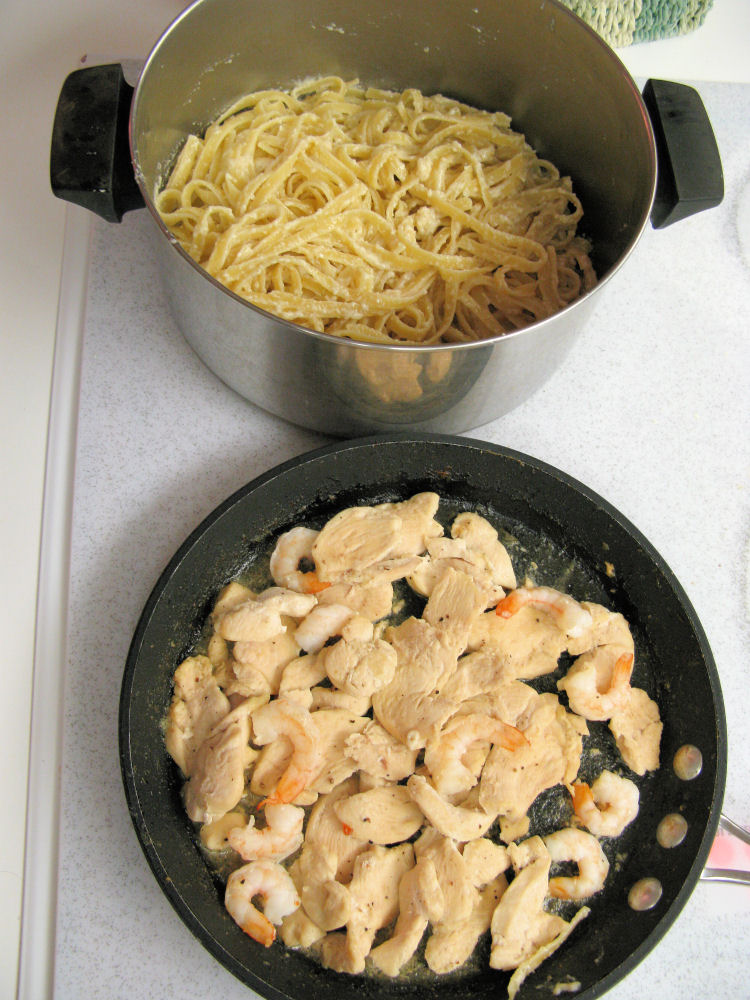 Crouton's Chicken & Shrimp Fettuccini Alfredo
Servings: 4
Difficulty: medium
Ingredients
1 skinless chicken breast
12 large shrimp, deveined
4 cloves garlic
1 tbsp olive oil
½ stick butter
¼ cup half & half
white pepper
½ cup grated Parmesan cheese
1 lb fettuccini
Directions
Chicken & shrimp: slice chicken into strips. Sauté chicken and garlic in olive oil over medium heat. Add shrimp last few minutes of cooking.
Alfredo sauce: melt butter in small saucepan, add half & half, white pepper to taste, Parmesan cheese, mix with whisk. Cook over low heat; do not allow to boil. If sauce doesn't thicken after a few minutes of cooking, add more Parmesan.
Boil pasta. When pasta is cooked but still firm, drain and mix with Alfredo sauce. Serve with chicken & shrimp on top.
---
About Crouton deMenthe
Amateur cook and barbecue fanatic.
---

Amateur cook and barbecue fanatic.