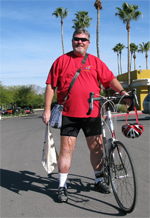 I'm insanely jealous of a friend in Marin County who got serious about bicycling this year and lost all kinds of weight.  So insanely jealous that I actually got on my bicycle this morning and rode 8.5 miles.  A few months ago, before the summer heat descended upon Tucson, I'd been riding two to three times a week.  Over the summer, though, I let it drop to once a week.  Where I had been riding 12 to 16 miles every time I got on a bike, and sometimes into the mid-20s, lately I've let it drop to a range of 8 to 12.
Starting today, I'm biking Tuesday and Thursday mornings and pushing the mileage back up.  I'll continue the weekly Saturday morning rides with Donna and a small group of friends and push to get us back up to the 16- to 20-mile range, which we used to do routinely.  In addition, we walk every Monday night in downtown Tucson, usually 3 to 4 miles, and now that it's cooler I'll start taking the dog for long walks again.  All that, plus two monthly hashes (one walking, one bicycling), should help.
That's probably more than you wanted to know about my exercise program, but I find that if I post commitments to my blog I'm more likely to keep them.  To further remind me of this momentous day, the kickoff of my new exercise regimen, I've started growing my winter moustache and goatee.
——————–
Tuesday I linked to a story about Amazon pulling the e-version of a science fiction novel after complaints over typos and poor editing.  Today I was happy to see that the e-book is on sale again after some "emergency editing" by the book's publisher, and that Amazon is replacing bad versions already purchased and downloaded by customers.
It's slightly disturbing that Amazon can reach into your Kindle without telling you first to replace books you already bought.  But in 2009, you might remember, Amazon reached into users' Kindles and deleted George Orwell novels after a copyright dispute.  That was far more disturbing.  After all, if you buy and download an e-book, don't you own it?  Amazon said at the time it wouldn't do that again.
But at any rate, if Amazon can reach into users' Kindles to replace e-books via wireless, I have to assume Barnes & Noble can do the same thing for its Nookbook customers.  I certainly expect them to … you see, I gave B&N $16.99 for the same book a few days before this story broke.
——————–
I posted this question to Google+ yesterday:
Increasingly, I feel this way about all political news.  With the exception of political news that makes a difference … the nomination of candidates by political parties, actual election results, etc … what we see night after night on TV and hear day after day on the radio is little more than a series of press releases put out by vested interests and duly passed on by the corporate media.  This shit isn't news.  It's stenography.
I'm starting to see bumper stickers saying "Turn off Fox."  That's a laudable start, but it's not enough.  We need to also turn off NPR, ABC, CBS, NBC, MSNBC, and CNN.  They've all sold out.  Well, except maybe for Rachel Maddow.  You have my permission to keep watching her show.
When it comes to real news, it's a do-it-yourself world.  The internet gives us the resources we need to find real news.  It's up to us to learn how to use it.