Jerk Pork Medallions with Brussels Sprouts & Potatoes
December 19, 2009
I felt like cooking last night, and I also felt like something new, so I decided to marinate pork medallions in jerk sauce and grill them. Potatoes and Brussels sprouts sounded like the perfect side dishes. It wasn't too hard, it was fun to cook, and best of all it was a really great meal.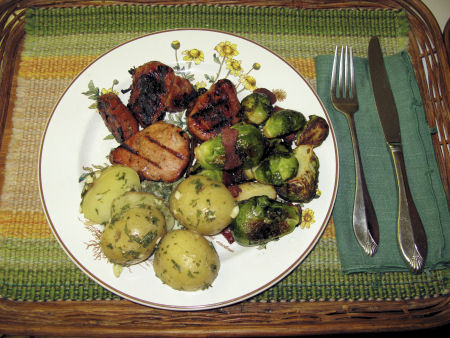 Jerk Pork Medallions with Brussels Sprouts & Potatoes
Servings: 4
Difficulty: medium
Ingredients
Pork Medallions

1 pork tenderloin, sliced into 1″ thick medallions
1/4 cup jerk marinade
1 tbsp brown sugar
1/2 tsp dried thyme
1/4 tsp ground cayenne pepper
1/4 tsp allspice

Potatoes

4-5 small potatoes or 6-8 new potatoes
1/3 stick butter
2-3 cloves garlic, chopped
1 tbsp dry parsley flakes

Brussels sprouts

1-2 dozen Brussels sprouts
3 slices bacon, chopped
Directions
Preparation: mix brown sugar and spices into jerk marinade, pour over pork medallions and allow to marinate for 2-3 hours, turning occasionally. Clean the potatoes and boil them for 30 minutes; set aside. Rinse the Brussels sprouts and slice each sprout in half; set aside.
Cooking: preheat a gas grill so that it's hot, or prepare a charcoal grill. Sear the pork medallions for 1-2 minutes per side, then reduce gas heat to medium or move medallions to a cooler place on the charcoal grill and cook for another 10 minutes, turning once.
Sauté bacon slices until nearly done, pour off most of the bacon fat but leave some. Sauté the Brussel sprouts in the remaining bacon and bacon fat for 10-12 minutes, until done.
Melt butter with garlic and parsley flakes, pour over potatoes and toss.
---
About Crouton deMenthe
Amateur cook and barbecue fanatic.
---

Amateur cook and barbecue fanatic.