Ditalini's Tortellini & Spinach Soup
November 19, 2009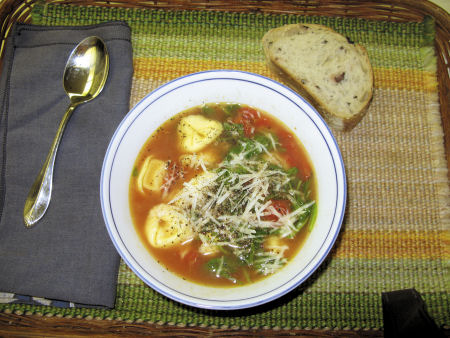 Originally a Food Channel recipe, modified by Ditalini.  Some nights we feel like something light, easy, and hearty . . . yeah, I can hear you saying "hearty doesn't go with light & easy," but trust me, in this case it does.
Ingredients
1 tbsp olive oil
1/2 cup minced onion
3 cloves minced garlic
4-6 cups broth (chicken or vegetable, or both)
1 can diced tomatoes
1 pkg cheese tortellini, fresh or dried
kosher salt & ground black pepper
spinach (see photo below; we use it all)
Parmesan cheese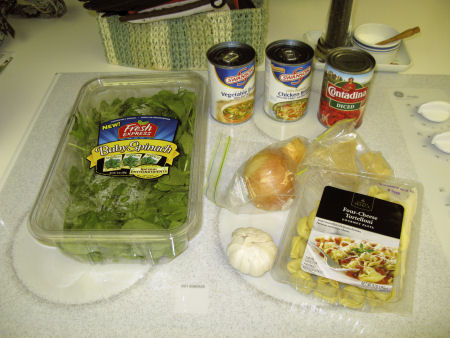 Directions
Sauté onion & garlic in olive oil in a 3-quart pot.  Add broth and tomatoes, bring to a boil.  Add tottellini and cook according to package instructions.  When toretllini is almost done, add spinach, salt, and pepper.  Serve with fresh grated Parmesan and crusty French bread.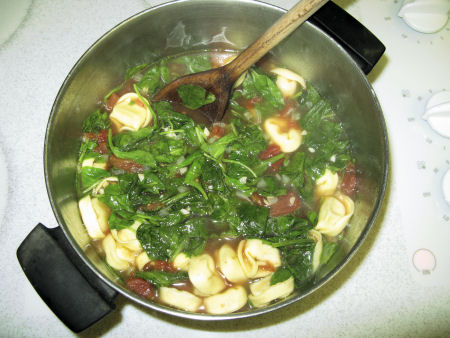 Notes
This soup takes just 20 minutes to prepare, and the recipe serves four; double or triple the ingredients for more.  You can use meat-filled tortellini, but we prefer four-cheese tortellini.
---
About Crouton deMenthe
Amateur cook and barbecue fanatic.
---

Amateur cook and barbecue fanatic.