Another Rotisserie Chicken
November 14, 2009
Ditalini was going to the store this morning, so I asked her to pick up a chicken.  She came home with a free range organic fryer that cost three times as much as the typical factory chicken, but we felt better about eating it — can you tell we watched Food, Inc. the other night?
All along I was thinking rotisserie chicken, because the last one we tried was so darn good.  So as soon as Ditalini left, I prepared a pot of brine and made a small batch of rub.
The recipe is already in the index, but I wanted to try a different rub this time.  That rub is included as an option in the linked recipe, and you'll notice it calls for ground espresso.  Since I didn't have any of that, I made it from equal parts of ground French Roast coffee and cayenne pepper, half parts of paprika and sugar, and a little salt and pepper.  After taking the chicken out of the brine, rinsing it, and patting it dry, I rubbed it thoroughly inside and out.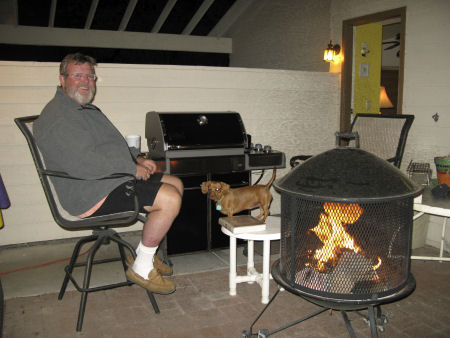 It was a chilly evening, so as soon as I got the rotisserie going I built a fire.  And then one thing led to another and before long I'd built an entire nest.  I spent the next hour and a half sitting between the warm grill and the hot fire, reading Uncle Tom's Cabin.  Mortadella loved being part of the action.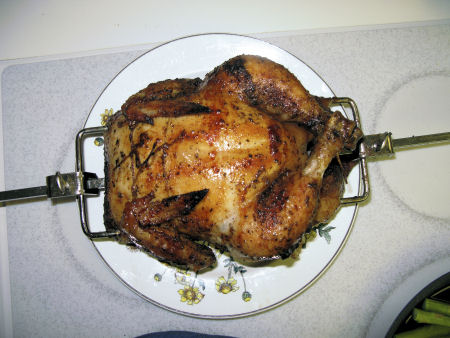 And here's our high dollar free range organic rotisserie chicken, resting before being carved up and devoured.  Brining it before cooking really makes a difference — it cooks up moist and flavorful, nothing at all like those roasted chickens you pick up at Safeway.  And the coffee-based rub?  I'm so glad I tried it — it gives the chicken a rich, savory flavor — and there's enough left over to rub another chicken soon.
---
About Crouton deMenthe
Amateur cook and barbecue fanatic.
---

Amateur cook and barbecue fanatic.