Crouton's Grilled Salmon w/Potatoes & Green Beans
August 14, 2011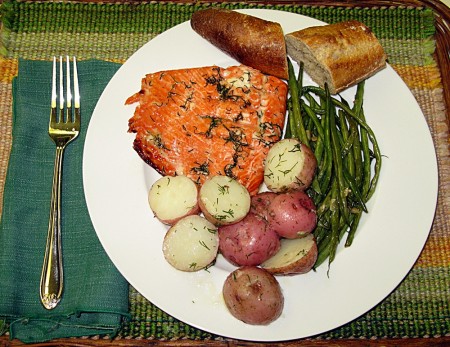 This is easy, and always good. It's a dinner a husband can cook and a wife will love.
Crouton's Grilled Salmon w/Potatoes & Green Beans
Servings: 4
Difficulty: medium
Ingredients
Salmon

2-3 wild salmon filets (1 to 1 1/2 lbs)
1 tbsp butter
1 tbsp honey
fresh dill

Potatoes

12 small red-skinned potatoes
2 tbsp butter
fresh dill

Green Beans

1/2 lb fresh green beans
1 tbsp butter
1 tbsp olive oil
4-5 cloves garlic, chopped
Directions

To prepare, rinse salmon filets and place on paper towels. Spray the inside of a grilling fish basket (see inset) with Pam; set aside. Rinse the potatoes and cut them in half. Rinse and trim the green beans.
You'll want to boil the potatoes in salted water for about 20 minutes. You can prepare the rest of the meal while the potatoes are boiling. Don't forget to preheat your charcoal or gas grill.
The salmon: melt the butter in a small saucepot over low heat, stir in honey and add plenty of fresh dill. Place the salmon in the fish basket, skin side down, brush butter/honey/dill sauce over the top. We'll come back to the salmon.
The potatoes: melt the butter over low heat in a small saucepot, stir in fresh dill. Drain the cooked potatoes, return to the pot, pour in butter/dill mix and toss. You can cover the pot to keep the potatoes warm while you grill the salmon and sauté the green beans.
The green beans: melt butter in a medium sauté pan over medium heat, add olive oil and chopped garlic, let cook a little. Add beans and sauté over low to medium heat, turning every few minutes.
Back to the salmon: put the fish basket with the salmon on the preheated grill, then cook for three minutes with the grill cover closed. Open the cover, turn the basket over, re-cover and cook another three minutes. While this is going on, run inside a couple of times to turn the green beans. When the salmon is done bring it in. Carefully remove the salmon from the fish basket with a small spatula, place on a plate skin side up. Lift up a small corner of the skin, peel it off and throw away. Now brush both sides of the salmon with the leftover butter/honey/dill mix.
Serve with crusty French bread.
© 2011 – 2021, Crouton deMenthe. All rights reserved.
---
About Crouton deMenthe
Amateur cook and barbecue fanatic.
---

Amateur cook and barbecue fanatic.