Friday Night Grilling
July 11, 2009
Dinner & a DVD always make for a nice Friday evening.  But grilling dinner makes the difference between Friday and TGIF!
The DVD was Pride & Glory.  Okay, but nothing to write home about.  Dinner, on the other hand, was blogworthy.  The menu? Grilled marinated flank steak, corn on the cob, and broccolini sautéed in butter & garlic.
With tough pieces of meat like flank steak, I like to use a marinade made of half a cup of lime juice mixed with half a cup of soy sauce.  The flavor is tangy, and the lime juice breaks down the meat's toughness.  I allow two hours for the flank steak to marinate.  Before putting the flank steak in the marinade I lightly scored it with a sharp knife on both sides to keep it from curling on the grill: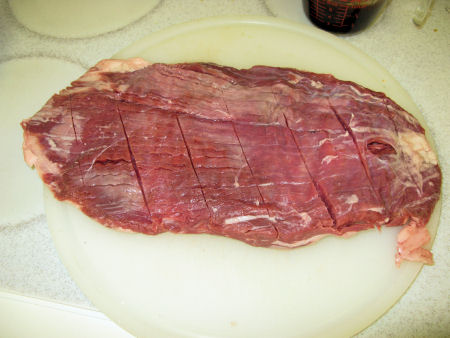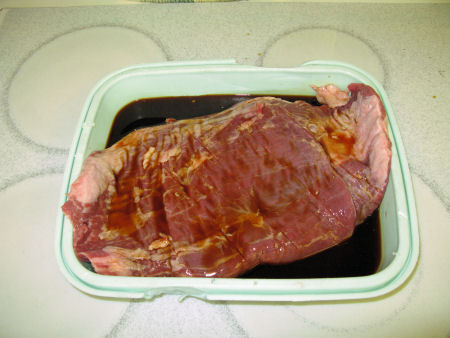 I shucked two ears of corn and wrapped them in foil.  They went on the grill first.  It took 15-20 minutes to cook the corn, turning the ears over with tongs halfway through.  A few minutes after putting the corn on, it was time for the flank steak.  For medium rare, plan on about 15 minutes, flipping halfway through.  These times are for a covered Weber charcoal kettle grill; if you're using a hotter grill (and most grills, especially gas grills, cook a lot hotter), cut the times accordingly.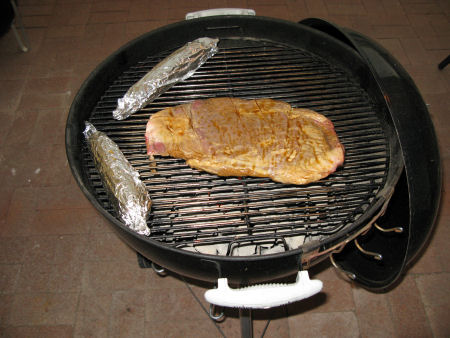 Once the flank steak was on the grill with the corn, I ran inside and sautéed some sliced garlic in butter in a small pan.  I added the broccolini and sautéed it for about five minutes, flipping it once with a spatula: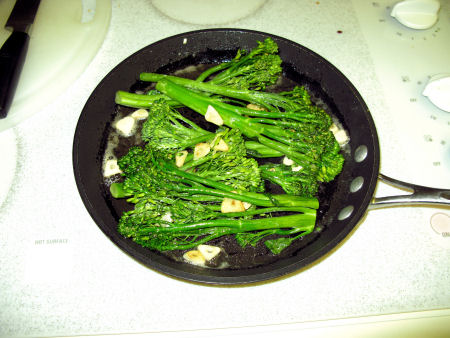 To serve, I sliced the steak across the grain: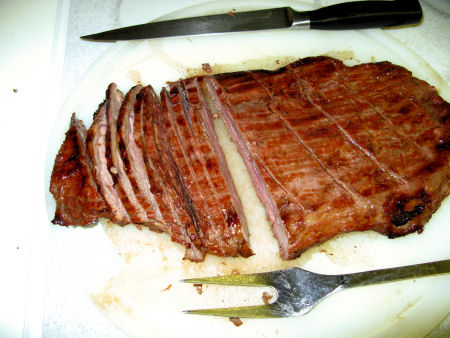 The movie was maybe worth three stars, but our five-star dinner pulled it up to four.  Dinner & a DVD . . . yes, definitely a TGIF experience.
---
About Crouton deMenthe
Amateur cook and barbecue fanatic.
---

Amateur cook and barbecue fanatic.