Escargot's Gordon Bleeping Ramsey Chicken
August 8, 2011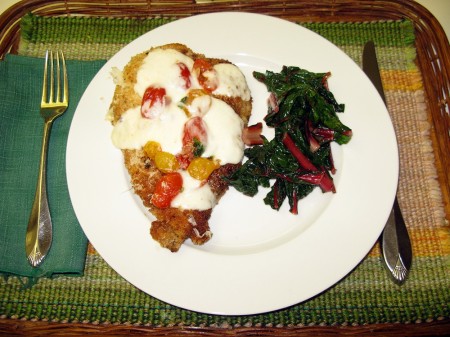 Every now and then, from the other end of the house, I hear my daughter watching something on TV that sounds like this: "Murmur murmur bleep murmur bleep bleep murmur." I thought maybe it was Spongebob Squarepants with a bad case of hiccups, but it turns out she's been watching … and learning from … TV chef Gordon Ramsey. The other night she put some of that learning to good use with her interpretation of a Gordon Ramsey recipe.
Escargot's Gordon Bleeping Ramsey Chicken
Servings: 4
Difficulty: medium
Ingredients
4 skinless & boneless chicken breasts
1/2 cup flour, seasoned w/salt & pepper
2 eggs, slightly beaten
1 cup breadcrumbs mixed with 2 tbsp dried parsley flakes
vegetable oil
2 dozen cherry tomatoes, halved
pinch of sugar
1/2 cup chopped basil
zest of a lemon, lemon juice
1 clove garlic, crushed
2-3 balls of buffalo mozzarella, sliced
4 tbsp grated Parmesan cheese
Directions
Butterfly the chicken breasts. Dip in flour, then egg, then breadcrumbs; fry in vegetable oil until golden brown and crispy. Remove breasts and place them in a baking dish lightly brushed with oil. Set aside. Preheat oven to 350°F.
In a smaller pan, heat small amount of vegetable oil and add salsa ingredients: tomatoes, basil, pinch of sugar, salt & pepper to taste, lemon zest and a squirt of juice, crushed garlic. Toss over high heat until tomatoes are tender. Spoon salsa mixture over chicken breasts, cover each breast with 2-3 slices of mozzarella. Sprinkle with Parmesan, bake in oven 8-10 minutes.
Escargot served her chicken with sautéed kale. It was pretty bleeping good.
© 2011 – 2021, Crouton deMenthe. All rights reserved.
---
About Crouton deMenthe
Amateur cook and barbecue fanatic.
---

Amateur cook and barbecue fanatic.