Smoked Beef Brisket
January 1, 2008
Smoked Beef Brisket
Servings: 4-6
Difficulty: medium
Ingredients
3-5 lb brisket of beef
brown sugar
kosher salt
chili powder
black pepper
garlic powder
Directions
Prepare dry rub: 3 parts brown sugar, slightly less than 1 part kosher salt, 1 part chili powder, 1 part pepper, and 1/3 part garlic powder. Coat brisket with dry rub mixture 24 hours before smoking, store in refrigerator.
Prepare smoker with one layer of charcoal; when charcoal is hot and ready place brisket on rack, fat side up. Toss some wood chips on top of the charcoal and cover the smoker. Smoke for 4-5 hours, adding additional charcoal and wood chips as necessary.
Notes
Slow cooking, plus laying the brisket on the rack with the fat layer on top, is the secret to tender brisket, which is normally considered a tough cut of meat.
I use a Weber covered barrel smoker, but I imagine any kind of smoker will do the job. I soaked mesquite chips in water and threw a handful on top of the charcoal about once every hour (I also needed to add fresh charcoal every 1 to 1 1/2 hours). Before removing the brisket from the smoker I checked it for an internal temperature of 160 degrees F. After removing it from the smoker I put it in a casserole dish, covered it with foil, and let it rest.
When serving, cut the brisket across the grain, like London Broil. If you don't heap on the charcoal and cook it too fast, the brisket will be tender, with the dry rub giving it a great barbecue flavor . . . you won't need barbecue sauce with this recipe.
Here's our glorious brisket, which we served with scalloped potatoes and fresh steamed green beans: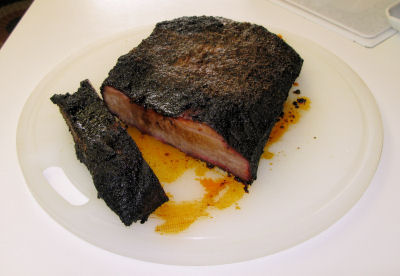 Amateur cook and barbecue fanatic.