Fried Catfish with Dirty Rice & Sautéed Spinach
March 10, 2012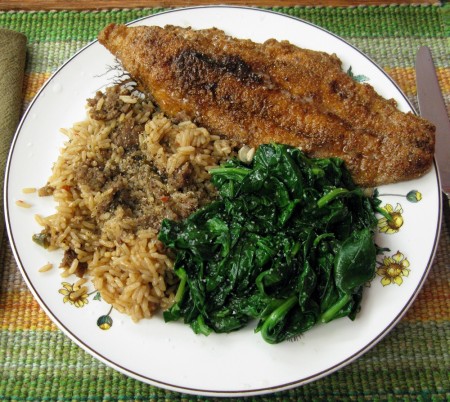 If you find yourself with some catfish, you can't go wrong dredging them in cornmeal and frying them. Served up with dirty rice and sautéed spinach, catfish makes a great dinner.
Fried Catfish with Dirty Rice & Sautéed Spinach
Servings: 4
Difficulty: medium
Ingredients
Catfish

catfish filets (1 per person)
2 eggs
1/4 cup milk
1/2 cup flour
1/2 cup corn meal
1 tbsp ground black pepper
2 tbsp paprika
3 tbsp olive oil
3 tbsp butter
lemon slices

Dirty Rice

1 package dirty rice
1/4 lb ground hot sausage

Sautéed Spinach

large container of fresh spinach, cleaned with stems removed
2 tbsp olive oil
2 cloves garlic, sliced
Directions
Rinse the catfish and pat dry with paper towels. Lightly score each filet on both sides with a sharp knife, making very shallow diagonal cuts about two inches apart (this will keep them from curling up when fried). I dipped each filet in beaten egg and milk, then dredged each filet in a mixture of flour and cornmeal, seasoned with ground black pepper and paprika. Place the breaded filets aside on waxed paper.
In a large frying pan heat the olive oil and butter over medium heat until the mixture stops sputtering. Fry the catfish filets, three to four minutes per side, turning carefully so they don't break. They should be golden brown when done, as in the photo. Serve with lemon, and tartar sauce if desired.
Prepare dirty rice per package instructions (we used Zatarain's, which you can find in most supermarkets), but add browned crumbled sausage to it (we use Jimmy Dean's hot sausage).
Heat olive oil in a large frying pan and then add sliced garlic and spinach. There'll be a huge pile of spinach at first, and as you sauté and turn it, it will reduce considerably. When it looks tender it's done.
Notes
Browning the sausage and preparing the dirty rice can be done ahead. You want the catfish and the sautéed spinach right out of the pan, however, so if you have someone to help you with the cooking it'll be much easier. I cooked the catfish outside on the side burner of a gas grill while Ditalini sautéed the spinach indoors on the stove.
© 2012 – 2021, Crouton deMenthe. All rights reserved.
---
About Crouton deMenthe
Amateur cook and barbecue fanatic.
---

Amateur cook and barbecue fanatic.