Crouton's Red Curry with Beef
March 25, 2012
Lately I've kept the cupboard stocked with coconut milk and a supply of red, green, and Penang curry paste. Because if you have those basics — and some rice — you can make a nice Thai curry out of whatever other ingredients you have laying around.
Until last night, I'd used chicken or shrimp in my Thai curry experiments. This time I decided to use beef. The peanuts were for crunch, the red bell pepper and green beans were for color, and the grapes were to add a contrasting sweet taste. The flavors and textures went together remarkably well, and I'll certainly make this dish again.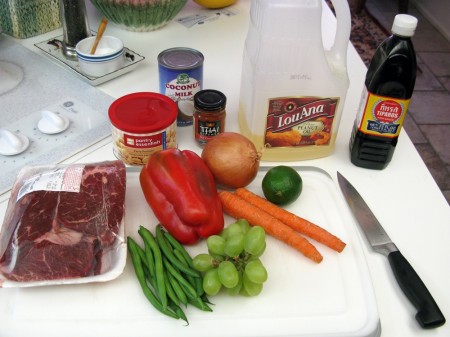 Crouton's Red Curry with Beef
Servings: 4
Difficulty: medium
Ingredients
2 tbsp peanut oil
beef, sliced thin
1/2 onion, sliced
2 carrots, peeled & sliced
green beans
red or green bell pepper, seeded & sliced
peanuts
grapes
1 can coconut milk
2 tbsp Thai red curry paste
zest of 1 lime
fish sauce, to taste
Directions
Heat peanut oil in large frying pan on a medium burner. Add the beef and brown it. About halfway through browning, add onions and carrots. Remove the browned beef, onion, and carrots and drain, set aside. Wipe excess oil from the frying pan with paper towels. Add half the coconut milk and the curry paste, mix well, then heat over a medium burner. Add the browned meat, onions, and carrot. Add the green beans.; Add the rest of the coconut milk and stir gently with a rubber spatula. Cover the pan and let cook for 10-15 minutes over medium low heat.
Use a fine scraper to get the zest off the lime, add to the pan, along with a handful of peanuts and the sliced bell pepper. Cover and cook another 5 minutes. Add the grapes and test the taste, adding fish sauce as desired.
Serve with rice.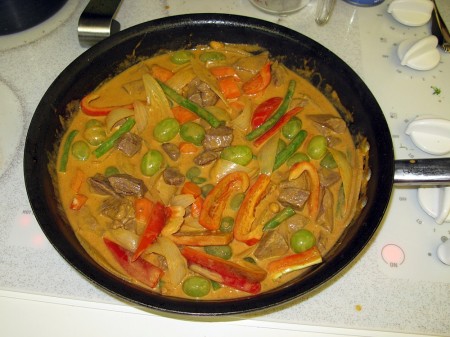 Notes
You won't need nearly the amount beef shown in the top photo. I used only about a third of that small roast, cutting 1/4″ slices from it, then cutting the slices into 1″ lengths. I used half the onion and half the bell pepper. Otherwise, ingredients as shown.
---
About Crouton deMenthe
Amateur cook and barbecue fanatic.
---

Amateur cook and barbecue fanatic.