Jerusalem Artichoke Gratin
February 22, 2012
When Ditalini told me she'd picked up Jerusalem artichokes at the co-op last Saturday, I pictured something … well, artichokey, maybe a smaller version of the California artichokes I was familiar with. But Ditalini's Jerusalem artichokes turned out to be something else entirely: potato-like root vegetables that look like ginger root.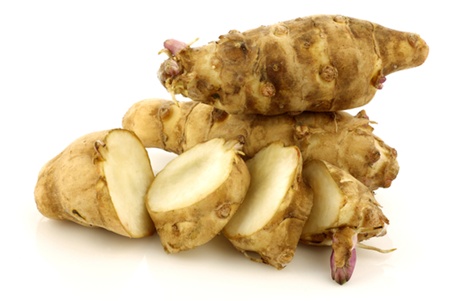 This was my first experiment with Jerusalem artichokes, so I picked an easy-looking recipe:
Jerusalem Artichoke Gratin
Servings: 4-6
Difficulty: medium
Ingredients
5 or 6 Jerusalem artichokes
salt & pepper
butter
grated Parmesan cheese
Directions
Scrub the Jerusalem artichokes and boil them for 10 minutes in salted water. Remove and drain. Smear the bottom of a baking dish with butter. After the artichokes have cooled, slice them, and layer them in the baking dish. Sprinkle on salt and freshly ground pepper, dot with more butter, and sprinkle grated cheese over the top. Bake in a 400 degree oven until the cheese on top turns golden brown. Serve.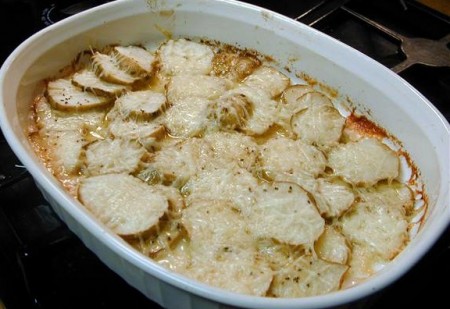 What are they like? A bit crunchier than potatoes, a bit mushroomy in taste. This gratin recipe could easily include bacon or ham, and I may try it that way next time … more like scalloped potatoes. It's a nice alternative to plain old potatoes.

Amateur cook and barbecue fanatic.