Ditalini's Chicken & Dumplings
July 22, 2011
What made this dish special was Ditalini's home-made chicken stock, so I'll include both recipes here.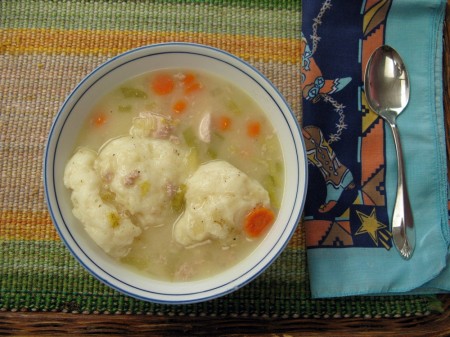 Ditalini's Chicken & Dumplings
Servings: 4
Difficulty: medium
Chicken Stock Ingredients
2-3 saved chicken carcasses
4-6 baggies full of saved chicken giblets
water
1 onion, chopped
4-6 cloves garlic, chopped
4-6 stalks celery, chopped
salt & pepper to taste
Chicken Stock Directions
Freeze and save about a year's worth of chicken carcasses and giblets. Place all ingredients in 2 1/2 gallons water in a very large pot, bring to a boil and reduce heat to maintain a low boil for 2-3 hours. Add salt & pepper to taste. When done, remove everything solid with a large slotted spoon or strainer and throw away. Place the pot of stock in the refrigerator overnight. The next morning remove the grease that has floated to the top. Strain the remaining stock through cheesecloth and save. Ditalina got almost 2 gallons of stock out of this batch. One gallon went into the freezer. The other gallon went into the chicken & dumplings.
Chicken & Dumplings Ingredients
4 qts chicken stock, canned or home-made
meat from 2 chicken breasts, bone & skin removed
1 cup sliced carrots
1 cup sliced celery
1 cup chopped onions
2 cups Bisquick mix
2/3 cup water
Chicken & Dumplings Directions
Place chicken, carrots, onions, and celery in stock. Bring to a boil, reduce to low boil. Mix Bisquick and water to make a soft dough. When the onions and celery in the broth are cooked, about an hour, drop spoonfuls of dumpling dough onto the boiling broth. Reduce heat and cook uncovered for 10 minutes. Cover and cook another 10 minutes. Serve.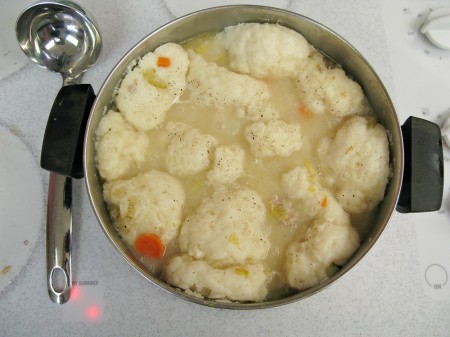 ---
About Crouton deMenthe
Amateur cook and barbecue fanatic.
---

Amateur cook and barbecue fanatic.