Salad with Grilled Salmon
September 6, 2010
Ditalini came up with this great grilled salmon salad. She makes the salad and dressing; I grill the salmon.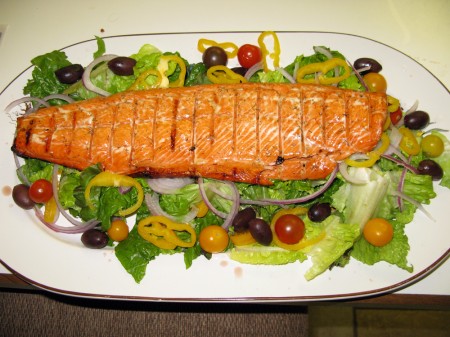 Salad with Grilled Salmon
Servings: 4
Difficulty: medium
Ingredients (Salad)
mixed salad greens
red/yellow/green salad peppers, sliced
red onion, sliced
cherry tomatoes, whole
green & black olives, pitted
mozarella cheese
Ingredients (Salmon)
1 lb salmon filet
1 tbsp butter
3-4 tbsp honey
chopped dill
Ingredients (Avacado Dressing)
avacado
1 tbsp sour cream
1 tbsp mayonaisse
Directions
Toss salad greens with other salad ingredients, spread on plate or platter, set aside.
Melt butter in small pan, stir in honey and chopped dill. Brush butter/honey/dill mixture on the meat side of the salmon (save the rest for later). Grill the salmon in a fish basket coated with Pam, approximately 3 minutes per side. When fish is grilled, peel the skin off the back side of the salmon, then brush with the saved butter/honey/dill mixture. Arrange the salmon on top of the salad greens.
Peel and pit the avacado. Crush it in a bowl with a fork, mix in sour cream and mayo, stir until smooth. Serve the avacado dressing on the side.
Notes
You can cook the salmon any way you like. We prefer to grill it. We leave the skin on the salmon until it's cooked because it's almost impossible to peel it away when the salmon is raw. Once cooked, the skin comes right off. Sometimes we add lemon pepper to the butter/honey/dill mix. Sometimes we use kalamata olives, sometimes regular canned black olives.

Amateur cook and barbecue fanatic.