Italian Family Barbecue Revisited
October 5, 2009
Here's the original recipe, if you want the details.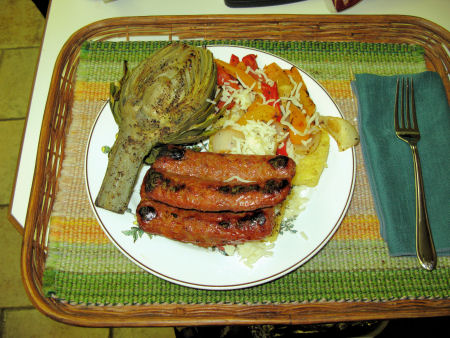 A few variations this time around.  We recently bought a new gas grill, and in my zeal to protect it and make it last forever, I'm using grilling pans and sheets.  You can see them in the photos below:
I've had the square grilling pan for some time and have used it many times before.  The perforated sheet is new and I used it for the first time tonight.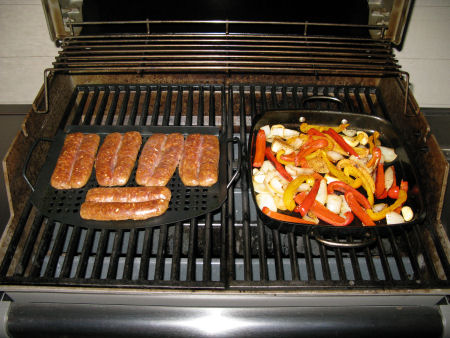 I started out by using the perforated grilling sheet  for the artichoke, to keep leaves from falling down to the bottom of the grill.  It worked so well I wound up using it for the sausage and the polenta as well.  If you've ever grilled polenta, you know it will crumble if you're not careful; the sheet eliminates that sort of mess.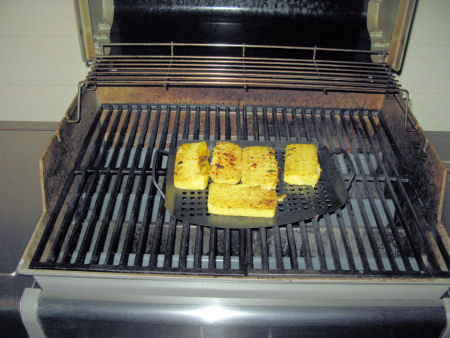 Hint: lightly spray the grilling pan and sheet with Pam first, then let them pre-heat on a hot grill before placing the food on them.
© 2009, Crouton deMenthe. All rights reserved.
---
About Crouton deMenthe
Amateur cook and barbecue fanatic.
---

Amateur cook and barbecue fanatic.