Grilled Polenta, Italian Sausage, & Peppers
June 18, 2009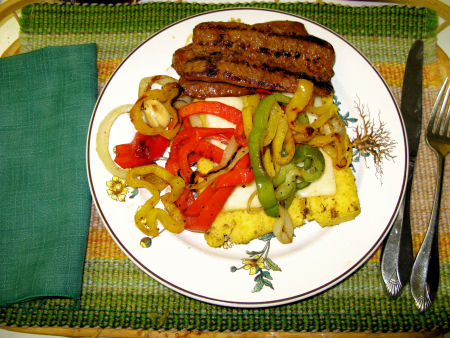 Yeah, I know, I've posted about these things before, here and here. But I felt like photoblogging last night's dinner and, this time around, presenting it in recipe format. My method is to put the peppers on the grill first, since they take the longest to cook (about 15 minutes), then the sausage (about 5 minutes), then the polenta (about 5 minutes). Here goes:
Grilled Polenta, Italian Sausage, & Peppers
Servings: 4
Difficulty: medium
Polenta Ingredients
6 cups water
2 cups polenta
salt
Polenta Directions
Bring salted water to boil in a heavy pot. Slowly add polenta, stirring it in as you go. Reduce heat to low, stirring polenta frequently for about two hours (fig. 1). The polenta is ready when it forms a crust on the bottom and sides of the pot. Spoon the polenta into a lightly-greased rectangular pan, packing it down firmly (fig. 2). When the polenta cools, invert the pan over a cutting board, then pull the pan away. Slice the polenta as shown (fig. 3). Grill just long enough to crisp the outsides, flipping halfway through (fig. 4).
Italian Sausage Ingredients
5 or 6 Italian sausage links, hot or mild
Italian Sausage Directions
Slice links lengthwise (fig. 5), grill for about five minutes, flipping halfway through.
Pepper Ingredients
1 each green, red, yellow bell pepper
1 medium yellow onion
garlic cloves
olive oil
salt & pepper
Pepper Directions
Slice peppers into 1/4-inch thick rounds, removing the pulp & seeds. Slice the onion the same way. Peel a few cloves of garlic. Place all into a grilling pan, add a little olive oil, salt, and pepper, and toss all (fig. 6). Grill for 15 minutes on a medium hot grill, turning frequently with a spatula (fig. 7).
Photos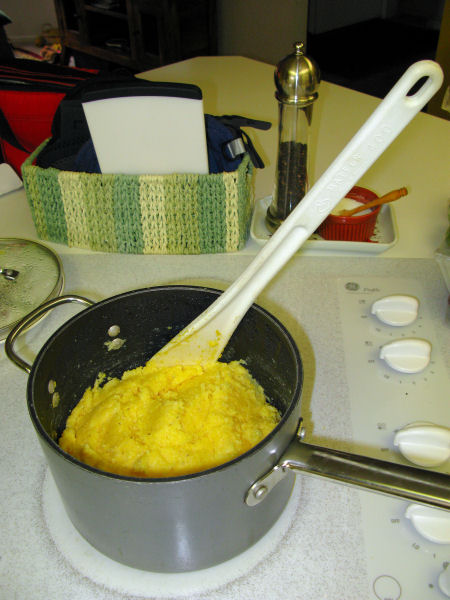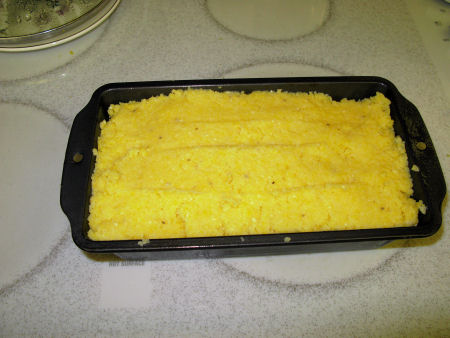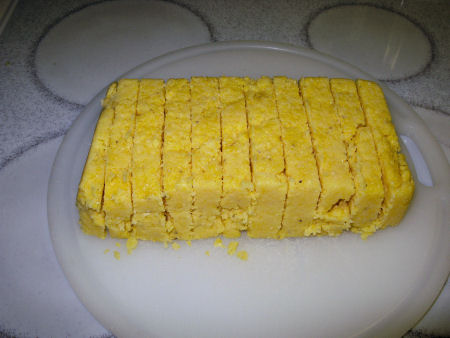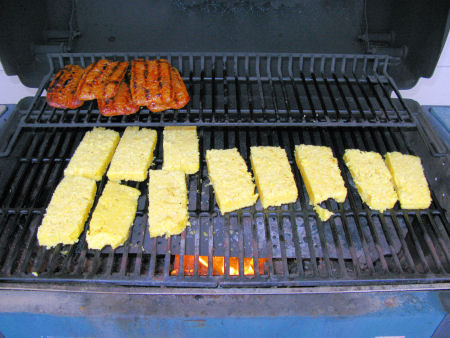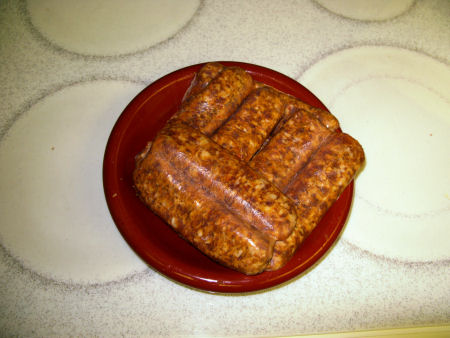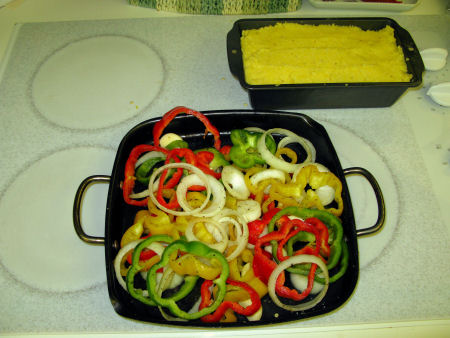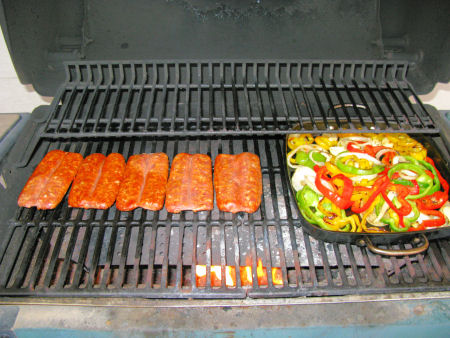 Serving
Arrange polenta slices on plate, top with grilled peppers. Serve grilled Italian sausage on the side. We like to place slices of Monterey Jack cheese on top of our polenta, then grate fresh Parmesan cheese over all.
---
About Crouton deMenthe
Amateur cook and barbecue fanatic.
---

Amateur cook and barbecue fanatic.