Fresh Hatch Chiles
August 13, 2012
This entry isn't a recipe, though it's closely related to one, Crouton's New Mexico Green Chile Stew.  I wanted to share a bit of local color with you, namely the Hatch green chile roasters who set up shop in front of our local Safeway during the season.  Here they are with their gas-fired roaster, burning the skins off fresh Hatch chiles and selling them in quart-sized ziplock bags.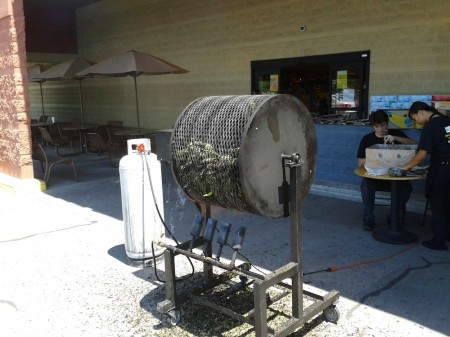 In this part of the southwest, fresh green chiles from Hatch, New Mexico are as big a deal as lobsters in Maine or sweet spring corn in Iowa.  You can't believe how good roasting chiles smell!
Now that I finally have a cell phone with a decent camera, I'll keep an eye out for the tamale vendor who sometimes works the parking lot at the same Safeway.  The best tamales in Tucson are home-made and sold by people in parking lots … when I see a tamale vendor in front of Safeway I always buy a bag.  I've never made my own, partly because they seem like such a lot of work, but mainly because the ones I get in parking lots are so heavenly.  Note to self: buy some, take photos, write a post for Crouton's Kitchen!
© 2012 – 2013, Crouton deMenthe. All rights reserved.
---
About Crouton deMenthe
Amateur cook and barbecue fanatic.
---

Amateur cook and barbecue fanatic.