Crouton's New Mexico Green Chile Stew
August 13, 2012
Yesterday someone set up a gas-fired roaster in front of the local Safeway and started roasting fresh Hatch green chiles. They smelled so good I couldn't resist buying a bag and rushing home to make a pot of New Mexico green chile stew. I know, there's another green chile stew recipe here at Crouton's Kitchen, but this one is the more authentic of the two and the ingredients are slightly different, so I've added it to the recipe index.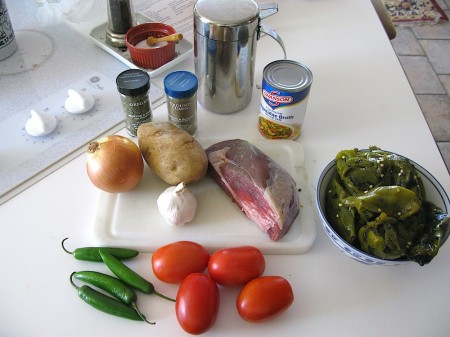 Crouton's New Mexico Green Chile Stew
Servings: 4-6
Difficulty: medium
Ingredients
1 tbsp olive oil
1 lb boneless pork shoulder or tenderloin
4 cloves garlic, crushed
1 large onion, chopped
1 tsp ground cumin
1 tsp dried Mexican oregano
2 lbs roasted & peeled Hatch green chiles
2 Serrano chile peppers, sliced
1 Russet potato, peeled & cubed
3 Roma tomatoes, chopped
1 can vegetable broth
Directions
Heat olive oil over medium heat, then brown the meat, garlic, onion, cumin, and oregano. Add vegetable broth, reduce heat to low, simmer for 30 minutes. Add cubed potato to the stew and simmer another 45 minutes. While this is going on, cut the stem ends off the roasted chiles, slice them in half, rinse out the seeds, and lay flat on paper towels. You can also seed the Serranos at this time (remember to wash your hands really well after handling the Serranos).
Chop up the roasted chiles and Serranos and add to the stew. Add water to the broth if it cooks down too much. Continue to cook over low heat another 20 minutes or so, until the potatoes are soft and the meat is tender. Add the tomatoes and cook another 10 minutes. Serve with good crusty bread, as shown.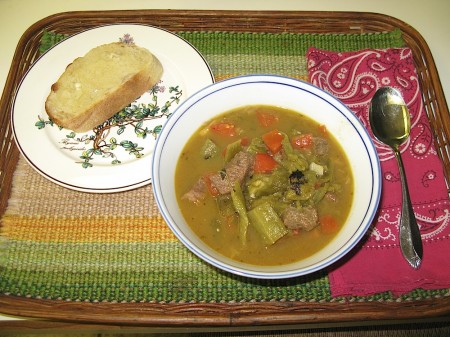 Notes
New Mexico green chile stew is traditionally made with pork. I thought I had a pork tenderloin in the freezer but when it thawed it turned out to be the unused half of a beef roast, so I used that instead. It's great with beef, but I wish I'd had the pork, if only for authenticity's sake. You can get Hatch chiles in cans, already roasted and peeled, but if you can get them fresh by all means do so. I was going to use a can of diced tomatoes but decided at the last minute to chop up fresh Roma tomatoes out of deference to the wonderful fresh roasted chiles. The smell of this dish cooking will draw people from miles around, so it's a good thing this cooks up enough for four to six people.
Finally … is it "chili" or "chile"? You'll notice I spell it both ways here on the blog. Properly, the peppers are chiles, and if you're making New Mexico green chile stew … at least to my half a mind … it gets the e. If, on the other hand, you're making Tex-Mex chili beans or chili con carne, then it's spelled with the i, at least in Crouton's kitchen!
Update (8/13/12)
Yesterday the chile roasters were back at the corner Safeway, so I bought another bag of fresh Hatch chiles. This time I had pork shoulder in the freezer, but since it would have taken two days in the fridge to thaw — and since I wanted to cook with the fresh chiles right now — I made this batch of stew with chicken instead. The only substitutions were two cut-up chicken breasts for the pork, and a can of chicken broth for the vegetable broth. Here's how it turned out (and yes, it was delicious):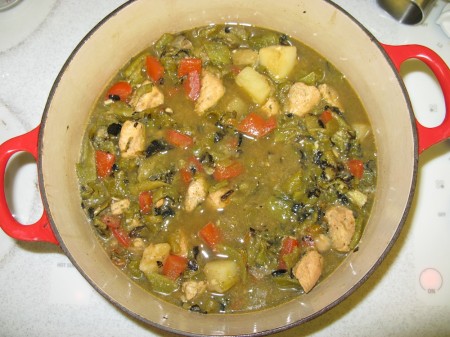 Hmmm … I've prepared this stew twice now and have yet to use the traditional meat ingredient, pork. I do have some pork shoulder in the freezer, and one of these days I'll get around to it. When I do I'll post another update!

Amateur cook and barbecue fanatic.