I decided to become a Daily Kos diarist (or, as my conservative friends will say, a minion of the Great Orange Satan).  I started with a diary entry about the confiscation and banning of books in the Tucson Unified School District, put together from two recent posts here on Paul's Thing (here and here).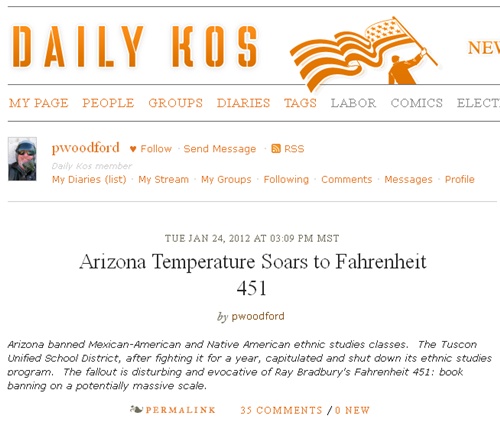 Only a few people read this blog.  Tens of thousands read Daily Kos.  I consider myself blessed if one reader per month leaves a comment on this blog.  Within 24 hours, my first Daily Kos diary entry gathered 35, all of them interesting and intelligent … even the ones from people who disagree with me.
This is still my blog, and this is where the stuff I write will first appear.  I don't plan to post many diary entries at Daily Kos … the Kos crowd isn't likely to be interested in posts about airplanes, motorcycles, bicycling, dogs, or my personal life … but when I write about larger cultural, ethical, and political issues I will probably cross-post those entries to Daily Kos.
How do you get there?  I added a link to my Daily Kos Diary on the left sidebar.  You can also click here.