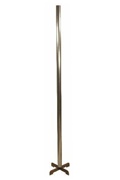 The outside lights are up, strung along the eaves on the front of our house.  Polly and I put them up two weeks ago.  But the tree?  That's a different story.
Our old Martha Stewart Omniliving Holiday Tree® has become a Ghost of Christmas Past: threadbare (yes, artificial trees shed too), one entire section of lights out … and that was last year; no telling what it looks like now, because it's still in the box.
I took it down from the rafters over the garage ten days ago, but none of us felt like taking it out of the box and putting it together.  Donna said maybe we should get a smaller tree, possibly a real one.  I'm all for small, but suggested we get a new artificial tree instead.  Then Donna said okay, but one without lights.  And then I confessed I really didn't give a shit and would just as soon skip putting up a tree altogether.  To my astonishment, last night Donna said okay.
Adrift on a sea of seasonal ennui, we are.  Happy Festivus, everyone.
——————–
Some good but under-reported news you might never have learned of otherwise: remember the backpack bomb discovered moments before last January's Martin Luther King Day parade in Spokane, Washington?  Did you know they caught the white supremacist domestic terrorist who planted it and put him on trial?  Yesterday he was convicted and sentenced to 32 years in prison.  No rendition to a black site, no confession extracted under torture, no Guantanamo, no military tribunal … just plain old police work and a regular court trial.  That's a outcome I can live with … and an America I can be proud of.
——————–
A few days ago the US Navy released a photo of a same-sex couple kissing after a deployment.  It's a lovely photo, and since just about everyone with a blog has posted it, I will too: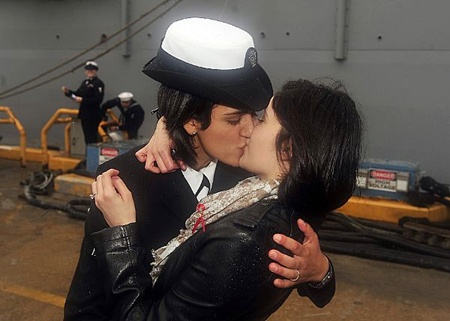 I don't know if the TV news networks have shown this photo … I would guess not … but as a gentle intro to the post-DADT era, this is about as good as it gets.  The reader comment section at one political blog contains a lively and ongoing debate over whether the Navy would have released the photo if the happy couple had been male.  I had that thought too, unworthy though it may be.  Social resistance to female homosexuality isn't as fierce as that against male homosexuality.  So … baby steps, people, baby steps.  And Happy Festivus to Marissa and Citlalic.
——————–
So far this holiday season I've wished my friends a happy Hanukkah, Winter Solstice, Festivus, and of course a merry Christmas.  I haven't gotten around to Kwanzaa or Boxing Day, but they aren't here yet.  On Facebook I've been changing my profile photo daily, using images of Santa Claus from old advertising and newspaper photos.  Our Christmas shopping is done and the gifts are wrapped.  We're getting ready for our annual Christmas Eve party, and friends are coming over to sample Crouton's Dad's famous Christmas Eve clam chowder.  Somehow, though, something's missing.  What could it be?  I don't know … but I think it's shaped like a tree.
Update (later, same day): The hole in my soul has been plugged.  I dropped the Martha Stewart tree off at Goodwill, and since Ace Hardware was right next door, walked in and bought a four-foot-tall porch tree.  And the photo of the Navy sailors kissing?  A friend says he saw it on the NBC Nightly News last night.  I'm surprised … but it's a good surprised!
© 2011, Paul Woodford. All rights reserved.