You Can't Read That! is a periodic post featuring news about banned and challenged books.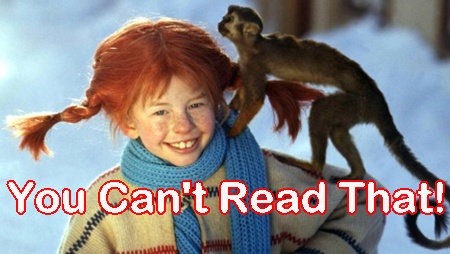 They changed Mark Twain's Huckleberry Finn to get rid of a word everyone used in the 1880s. They they went after Tintin in the Congo for drawings that reflected 1930s racial stereotypes. Now they're going after another notorious racist … Pippi Longstocking!
This is as laughably crude as it gets, the sort of thing you imagine going on in North Korea or Burma: teachers at Cody High School in Wyoming are busy taping over "bad words" in textbooks.
Here we go with The Diary of a Part-Time Indian, again … sigh. Let's hear from one of the parents: "He showed me some of the things that were in it and it was just disgusting," she said. "You know, perversion." I reviewed this book in an earlier You Can't Read That! column. The only sex in the book is when the story's protagonist, a 14 year-old boy, confesses to masturbating. If that's perversion, then we're all perverts.
Book banning isn't restricted to classrooms and school libraries … sometimes big-name retailers refuse to carry certain titles, as in this case. In a related case, the public is calling on Amazon to remove a biography of Penn State assistant coach Jerry Sandusky from its site.
Parents (one couple, it appears) prepared a laundry list of books to cleanse from their Kansas City area school district after consulting with their pastor, who told them "This is good books. This is not good books."
I've long been concerned about right-wing and religious groups organizing parents and "concerned citizens" to challenge books at public and school libraries around the country. The media doesn't do much reporting on this, and it's hard to prove, but in past posts I've cited some of these efforts:
Now I've come across a pretty concrete example of right-wing book-banning organizing, in the form of a Powerpoint presentation being given to groups of conservative and religious parents around the country. The goal, it seems, is twofold: first to demonize the dirty hippies of the American Library Association … and then to go after young adult fiction that isn't explicitly Christian. The media is beginning to play along. Here's an example of the sort of News at Eleven fright story these groups thrive on: Teen tries asphyxiation after reading novel. Well, all I have to say is you'd better keep that suggestible kid away from The Diary of a Part-Time Indian. He might take up masturbation!