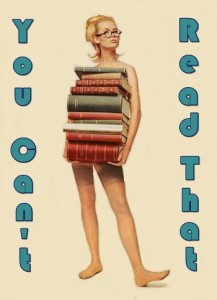 You Can't Read That! is a periodic post featuring banned book reviews and news roundups.
My last YCRT column was all about Kurt Vonnegut and Slaughterhouse-Five.  Can you stand one more link?  It's a good one.  Oh, all right, one more, in honor of the respectable citizens of Republic, Missouri … you know, the ones who are willing to stand up to the book banners.
From around the internets:
Here's a link to a list of banned science fiction and fantasy books of the last two decades.
Oh my, some book banning going on right under my nose in Tucson, Arizona.  Since this is Arizona, it comes as no surprise that it's motivated by hatred of Mexicans and Native Americans.
Here's one author who takes the banning of her book as a compliment.
Now they're after Haruki Murakami?  Well, that's all the excuse I need to finally read Norwegian Wood!
A long-time concern of mine is finally getting the attention of others.  What is that concern?  "An uptick in organized efforts" to challenge and ban books by the religious right:
——————–
You Can't Read That! banned book review: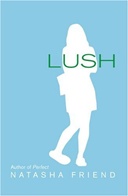 Lush
Natasha Friend
As part of my long-term banned book project, I'm reading a few of the young adult novels that have shown up on the ALA's Top Ten Banned and Challenged List. Natasha Friend's Lush made the list in 2010, so I sat down to read it. And I have to say, I'm baffled. Why anyone would object to this book is beyond me. But according to the ALA, parents (and religious crusaders) object to the book for the following reasons: it deals with drugs, contains offensive language, is sexually explicit, and is unsuited to the age group for which it is intended.
Drugs? The book is about growing up with an alcoholic parent. Of course it deals with drugs. Offensive language? Samantha's boobs develop a little earlier than some of her classmates', and some junior high boys tease her about that. Unless I missed a purple passage somewhere, a couple of repetitions of the word "boobs" is what they're calling offensive language. Sexually explicit? Oh give me a break … some teenage boys hit on Sam, but she's a virgin going in and when the book ends she's still a virgin. There is no explicit sex whatsoever in this book. Unsuited to age group? How many young teens have alcoholic parents? Unless the answer is "none," how could this book be unsuitable for young teens?
Sorry, I'm not buying it. This is a helpful YA novel for troubled kids. With alcoholism as big a problem as it is in our society, there are a lot of kids with alcoholic parents, kids who could get support and direction from a book like this. Lush is everything you want a YA novel to be: kindly, understanding, full of good advice, supportive of good morals … it even has a happy ending, for crying out loud.
My opinion only, albeit an opinion informed by previous research into banned and challenged books for children and young adults: the religious crusaders who want to ban this book aren't objecting to Lush for the reasons stated. They're upset about Jesse, the young gay library assistant who becomes Sam's friend and confessor. I'll put money on that. They want to ban this book for the same reason they want to ban that other perennial top tenner, And Tango Makes Three.
So how's the book? Great. Natasha Friend tells a compelling story, perfectly tailored for the young adult audience but one any adult will find readable. Very few of us are untouched by alcoholism, so Samantha's story gets its hooks into us quickly and doesn't let go. There are a lot of YA books about the dangers of drug addiction, but I was happy to see one … and such a readable one at that … dealing with the most common, arguably hardest and most addictive drug of all, plain old alcohol. This is a book all kids should read, and maybe all parents too. I'm glad I read it.
To close, a few words about the banning of Lush from Natasha Friend herself:
Lush has been banned in some middle schools. How do you feel about that? Befuddled. While I was writing, it never occurred to me that Sam's story was in any way controversial or inappropriate for middle-grade readers. To my mind, the book is a realistic portrayal of a girl with an alcoholic father, a girl who is struggling with her own decision-making vis-à-vis alcohol and boys. The scene of contention for some parents and educators: when a drunken Sam ends up in a bedroom with an older boy and he attempts to take advantage of her. The incident, while disturbing, is not gratuitous. If anything, the scene serves as a cautionary tale — fruit for discussion, not forbidden fruit.
© 2011, Paul Woodford. All rights reserved.