I've been trying to photograph a pair of Gila Woodpeckers and a Thrasher, but they're skittish.  Whenever I reach for the camera, they see the motion — I'm on the other side of a window and only a few feet away — and fly away.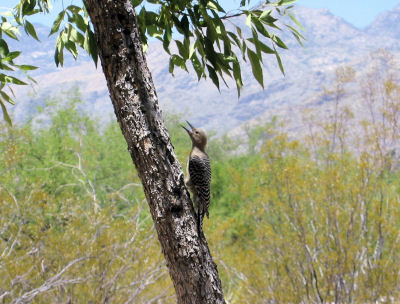 Turns out the female Gila Woodpecker is a little less shy than her mate.  Here she is, looking for all the world as if she's panting in the 105-degree heat.
For reference, this is a fair-sized bird, eight or nine inches from head to tail.  The male has a bright red patch of feathers on the top of his head, and with any luck I should be able to post a photo of him soon.
Bird watching . . . who'd of thought I'd get into that?
Previous entry in this thread: here.
© 2007 – 2008, Paul Woodford. All rights reserved.