I saw a bird that shouldn't be here.  This was about a month ago, while Donna and I were hiking in a Tucson park.  Back behind the soccer fields, where it was mostly dirt and cactus, there was this beach bird, something like a plover.  "That bird is sure lost," I thought.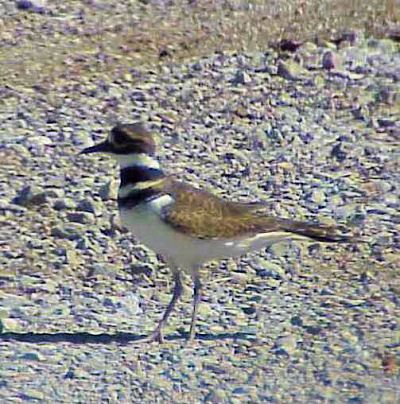 As Donna and I got closer to the bird, it started flopping around in the dust.  "Wounded bird!" I said, "It's an act!"  Looking around, I saw its mate sitting in the dirt about 20 yards away.  I'd heard of such things, and probably even seen it on educational TV, but it was really cool to see it happening right in front of us.  Our wounded bird flopped around, but as we got closer to it miraculously recovered, ran another few yards farther away from its mate, then started flopping around again.  It was trying to draw us away from the nest and its mate.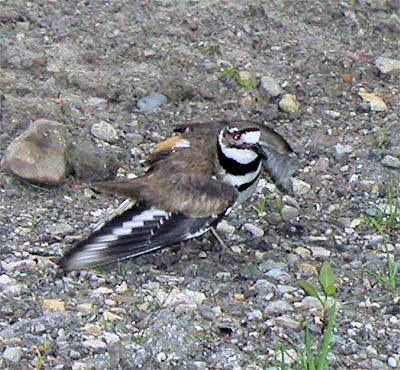 We broke off the pursuit and left the birds in peace, hoping coyotes or kids from the park wouldn't get them.  In the weeks that followed, I tried to find our Southern Arizona bird-spotters guide, but couldn't.  I asked my friends if they knew about these birds, but no one had ever seen one.  Finally I broke down and bought a new bird book.
Turns out our bird is a Killdeer.  It's a type of plover, all right, and although they're shorebirds they also live in the desert, making their nests in dirt or gravel.  I felt fulfilled – no, triumphant – when I read that the Killdeer is famous for pretending it has a broken wing, a defensive ruse it uses to lure predators away from its nest.
In Nabokov's Pale Fire (I'm probably getting this wrong, but I know I'm close) the narrator sees a bird he hasn't seen before, then runs upstairs in "nomenclatorial agitation" to find his field guide.
Nomenclatorial agitation, indeed.  I think I understand.  I think I could become a birder!