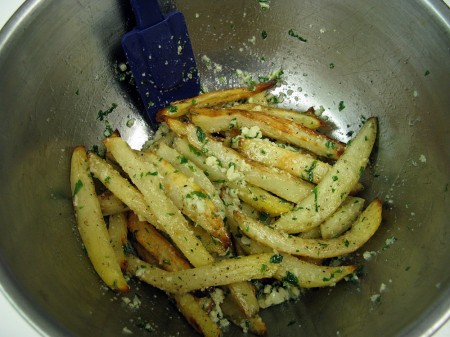 Ingredients
2 large baking potatoes, peeled and cut lengthwise into 1/4″ fries
1 tbsp vegetable oil
salt & pepper
1 tbsp butter
5 cloves garlic, chopped
fresh parsley, chopped
2 tbsp Parmesan cheese
Directions
In a large bowl, toss potatoes in oil, salt, and pepper.  Cover a baking sheet with foil and spray with Pam.  Arrange potatoes on baking sheet, place in preheated 400°F oven. Bake 50 minutes, turning potatoes with tongs after 20-25 minutes.
Heat butter and garlic in small saucepan, let the garlic cook over low heat for 2-3 minutes.  Add parsley and Parmesan cheese. Pour mixture over potatoes and toss.  Serve.
© 2011, Crouton deMenthe. All rights reserved.
---
About Crouton deMenthe
Amateur cook and barbecue fanatic.
---