Crouton's Green Chile Stew
September 14, 2009
Three summers ago I delivered fancy motorhomes for a Tucson RV dealership. We'd frequently drive new motorhomes across the state line into New Mexico so that customers could take title there and avoid Arizona taxes. Whenever we did, we'd always stop at this little cafe in Lordsburg for green chile stew. Because of that experience, I've always thought of green chile stew as a New Mexico specialty (don't bother telling me it's not so; I'm fond of my belief).
This is my adaptation of a common green chile stew recipe.
Crouton's Green Chile Stew
Servings: 4
Difficulty: medium
Ingredients
olive oil
1 lb beef stew meat, cut into 1″ cubes
1 medium to large onion, chopped
3-4 cloves garlic, chopped
3 cans chicken broth
2 large potatoes, peeled & cut into 1/2″ cubes
salt to taste
red pepper flakes to taste
1 large (27 oz) can green chiles, chopped
1/4 red bell pepper, seeded & chopped
fresh cilantro to taste, chopped
Directions
Heat small amount of olive oil in a heavy stock pot and brown the meat, lightly salting it. Remove the meat with a slotted spoon, then brown the onion in the pot with the oil & juice from the meat. When the onions are soft and golden, add the garlic, then the meat, broth, and potatoes. Bring to a boil, reduce heat to simmer and let cook for an hour, until potatoes are tender. Add green chile & bell pepper, cook 20 minutes more. Add cilantro. Serve with crusty bread.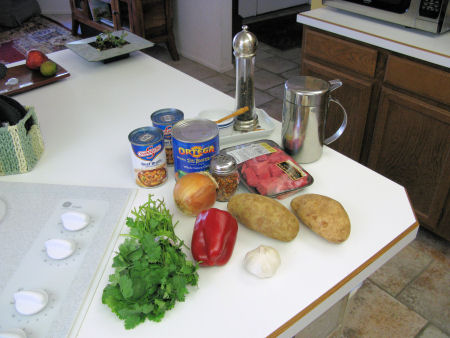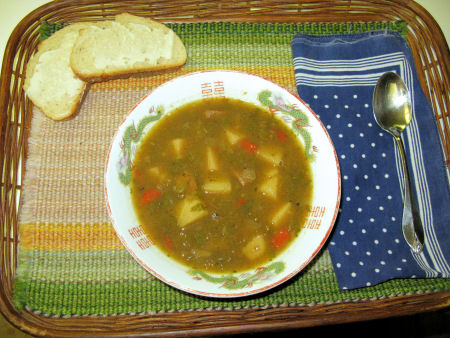 Amateur cook and barbecue fanatic.