Ditalini's Little Chicken Dinner
October 25, 2008
This is a one-dish casserole dinner that's been a deMenthe family favorite for years.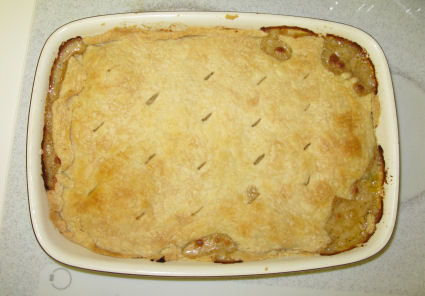 Ditalini's Little Chicken Dinner
Servings: 4
Difficulty: hard
Casserole Ingredients
1/4 lb bulk sausage, crumbled
1/4 cup butter

1/3

cup all-purpose flour
1/4 tsp salt
home-made or purchased pie crust
2 cups cooked chicken, cut up
2 cups chicken broth
1 cup light cream
1 3-oz can mushrooms (with liquid from can)
1 8-oz can peas & carrots (drained)
Pie Crust Ingredients
1 cup flour

1/2

tsp salt
1/3 cup shortening (+ 1 tbsp)
2 tbsp water
Directions
Casserole: boil a chicken. Remove skin, bones; cut up meat. Cook sausage, drain fat. Melt butter and stir in flour and salt until mixture is bubbly. Remove from heat. Stir in broth, cream, and mushrooms (with liquid from can). Heat to boiling, stirring constantly. Boil and stir one minute. Add peas & carrots. Add sausage and chicken. Pour into an ungreased rectangular casserole pan (13½" X 8¾" X 1¾").
Pie crust: mix flour & salt in bowl. Cut in shortening with pastry blender until particles are the size of peas. Sprinkle with water, 1 tbsp at a time, mixing with fork, until flour is moistened. Make a ball of the flour, place on lightly-floured cloth-covered board. Roll flat with rolling pin. Cut to shape and cover casserole, folding sides under. Cut slits on top. Or just buy a prepared crust.
Cover casserole with foil, bake 20 minutes at 425º. Take foil off and cook another 10-15 minutes or until brown on top.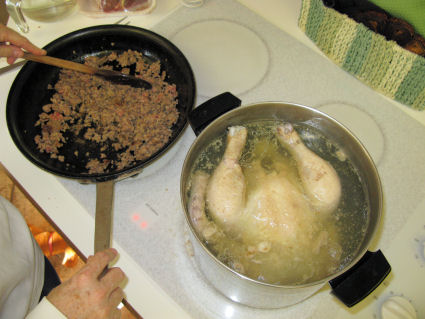 Credits
This recipe originally appeared in a fighter squadron cookbook (the Bulldog Cookbook II, by Linda Tkacs). It was given to Ditalini by Donna Bruce in Anchorage, Alaska, in October 1983.
---
About Crouton deMenthe
Amateur cook and barbecue fanatic.
---

Amateur cook and barbecue fanatic.