Crouton's Easy Dry-Rubbed Ribs
January 2, 2009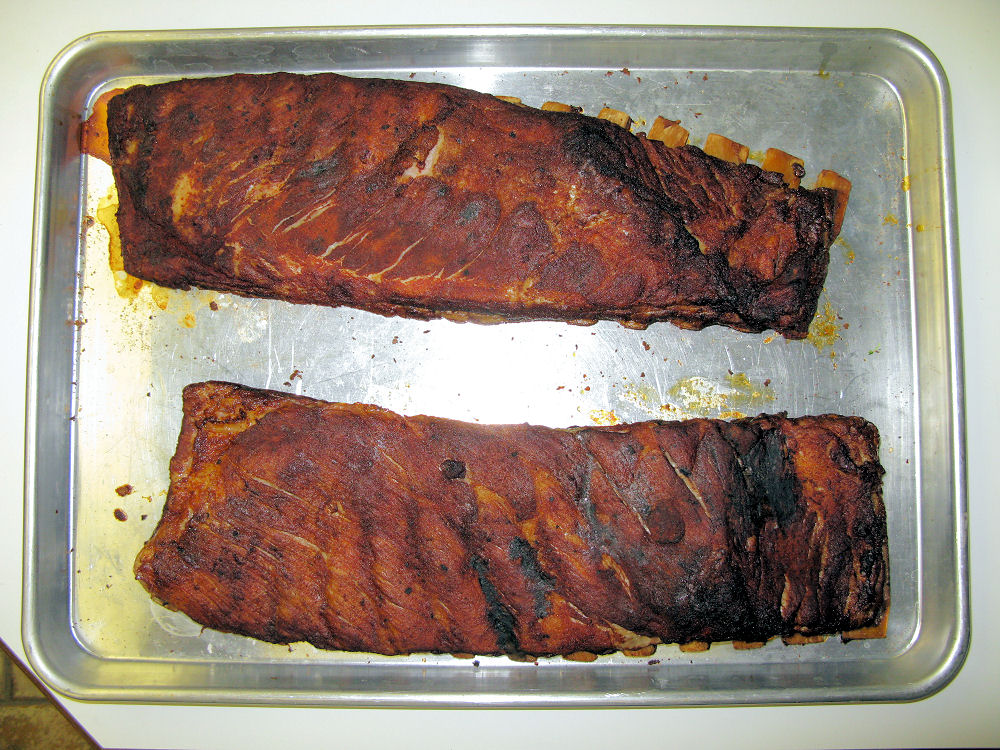 Crouton's Easy Dry-Rubbed Ribs
Servings: 4
Difficulty: easy
Ingredients
pork spareribs (St Louis style or baby back)
dry rub (Corky's, Rendezvous, or home made)
barbecue sauce (whatever kind you like)
Directions
With this recipe, you basically prepare and cook the ribs first, then finish them off on a gas or charcoal-fired grill.
Leave ribs as they come from the package, in a slab — do not cut. Pull the membrane from the back side of each slab (hint: lift up a corner of the membrane with a sharp knife, then grab it with a dry paper towel and firmly pull it away).  Liberally coat both sides with dry rub (we use Corky's).  Wrap the slab in aluminum foil and place on a cookie sheet with the seam of the foil wrap facing up.  Bake at 275 degrees for 3 1/2 to 4 hours. Peel back an end of the foil and take a peek: the ribs are cooked when the meat begins to pull away from the bones. Remove from oven.
Remove foil from ribs and barbecue them on a gas or charcoal-fired grill.  Remember, the ribs are already cooked, so you just want to get them nice and hot and make grill marks on the meat.  Serve with barbecue sauce on the side (some people will like the dry-rubbed ribs as they are, some will want sauce in addition to the dry rub).
---
About Crouton deMenthe
Amateur cook and barbecue fanatic.
---

Amateur cook and barbecue fanatic.