Ditalini's Portuguese Chicken
February 25, 2011
Ditalini adapted this recipe from Time/Life's The Cooking of Spain and Portugal, where it is listed as Pollo a la Chilindrón. She started making this dish almost forty years ago and it quickly became a family favorite. Naturally, she has changed the original recipe over time and it has by now become her own dish: Ditalini's Portuguese Chicken.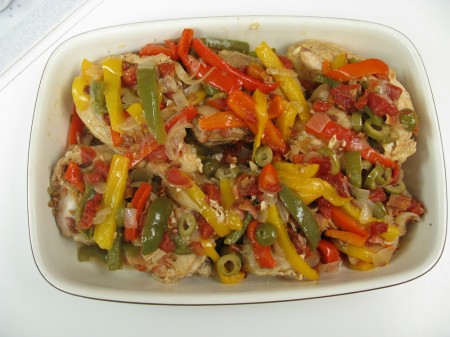 Ditalini's Portuguese Chicken
Servings: 4
Difficulty: medium
Ingredients
2-3 chicken breasts and 4-6 chicken thighs, bone in and skin on
salt & pepper
2 tbsp olive oil
1 large onion, sliced lengthwise
2 tsp chopped garlic
3 bell peppers (green, yellow, red for color), seeded and sliced lengthwise
1/2 cup fried bacon, crumbled
2 cans diced tomatoes
12 pitted black olives, sliced
12 green olives w/pimento, sliced
Directions
Dry chicken pieces, salt and pepper them, brown in olive oil in skillet. Set aside. Add onion, garlic, peppers, and bacon to the oil remaining in the skillet and cook over medium heat until the vegetables just start to soften. Add the tomatoes, including the juice from the can. Cook briskly until until the mixture thickens. Return the chicken to the skillet and cover with the vegetables and sauce. Cover and simmer over low heat until chicken is tender, about 20-25 minutes. Add olives, and more salt & pepper if desired. Transfer to a casserole dish and serve with rice.
---
About Crouton deMenthe
Amateur cook and barbecue fanatic.
---

Amateur cook and barbecue fanatic.