Chicken-Fried Steak & Garlic Mashed Potatoes w/Cracked-Pepper Gravy & Green Beans
February 2, 2011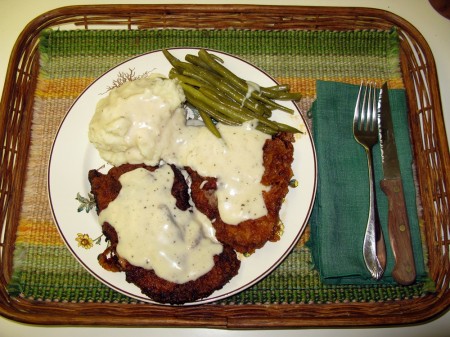 Guido & Sophia Trattoria gave me a late Christmas present last weekend: A Cowboy in the Kitchen, a Texas-themed cookbook by Grady Spears. When I cracked the covers the very first time, it opened to page 32 and a recipe for chicken-fried steak with cracked-pepper gravy. I took that as a sign and decided I'd better cook it. The result was tonight's dinner: chicken-fried steak and garlic mashed potatoes with cracked-pepper gravy and steamed green beans. I made some small modifications to Grady Spears' recipe, so what follows is my version, not the word-for-word recipe from the book: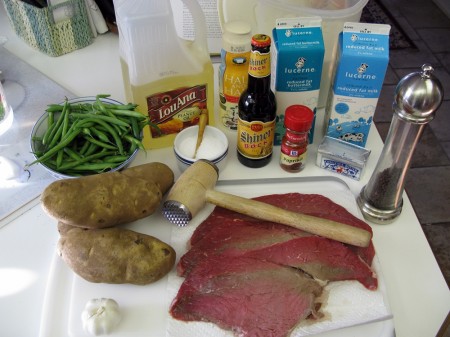 Chicken-Fried Steak & Garlic Mashed Potatoes w/Cracked-Pepper Gravy & Green Beans
Servings: 4
Difficulty: hard
Ingredients (chicken-fried steak)
1 cup peanut oil
4 thin-cut round steaks
Flour mixture
1 1/2 cups flour
2 tsp kosher salt
2 tsp ground pepper
4 tbsp paprika
Batter
2 eggs
1/2 cup buttermilk
1/2 cup Shiner Bock
Directions (chicken-fried steak)
Combine flour mixture ingredients. Prepare the batter by whisking the eggs, then whisking in other batter ingredients. Tenderize the steaks. Heat the oil in a large frying pan until hot (so that a drop of batter will sizzle in it). One or two at a time, coat the round steaks with the flour mixture, shake off excess, dip in batter, then coat again with flour mixture. Fry 4-5 minutes per side, turning with tongs. Keep fried steaks warm in the oven while frying the rest of the steaks and preparing the side dishes.
Ingredients (garlic mashed potatoes)
3 large russet potatoes
1 head garlic
5 tbsp unsalted butter
3/4 cup half-and-half cream
salt & pepper to taste
Directions (garlic mashed potatoes)
Peel & cut potatoes into 1 1/2-inch chunks. Peel cloves from head of garlic. Cover potatoes & garlic with water in a pot, bring to a boil, reduce heat to medium, cover and let cook about 20 minutes. Drain water. You can keep the drained potatoes warm while you prepare the rest of the dinner by simply putting a lid on the pot. When ready, add the butter to the potatoes & garlic and mash them, adding half-and-half as you go until you've got the consistency you want.
Ingredients (steamed green beans)
green beans
1 tbsp butter
Directions (steamed green beans)
Wash and trim beans. Place in a steamer, bring water to boil, steam for 4 minutes. Remove from heat, drain water, add butter and toss.
Ingredients (cracked-pepper gravy)
1/4 cup unsalted butter
5 tbsp flour
2 1/2 cups milk
1 1/2 tsp kosher salt
4 tsp cracked pepper
Directions (cracked-pepper gravy)
Melt butter in saucepot over low heat, whisk in flour and keep whisking as flour cooks into a roux. Slowly add milk, continuing to whisk. Stir in salt and pepper. Simmer and continue to whisk as gravy thickens.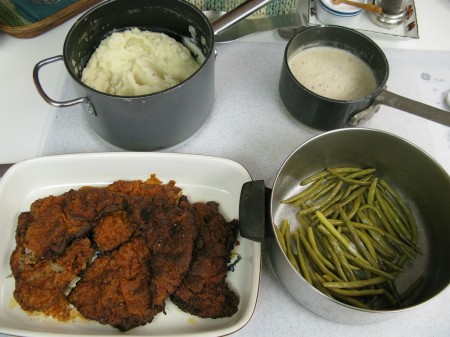 Notes
You've already figured out that this is a lot of stuff to prepare, and organizing the timing of what you cook and when will be important. Here's one way to do it:
Peel & cut the potatoes and garlic first and put them on to boil. As they cook, tenderize the steaks and prepare your flour mixture and batter. Spread the flour mixture out on wax paper and leave the batter in the shallow bowl you prepared it in. Heat the oil in the frying pan. Flour, batter, and re-flour two steaks at a time, fry them and then put them in the oven to stay warm while you prepare the next two steaks. By the time all the steaks are fried and in the oven, the potatoes will be ready to drain and mash. After mashing them put the lid back on the pot so they'll stay warm. Trim the beans and steam them as you prepare the gravy.
Gotta say, this dinner is a bit of work because you're doing everything from scratch with no shortcuts, but if you lay everything out beforehand and organize the order in which you cook things, you'll have a hit on your hands, pardner!
---
About Crouton deMenthe
Amateur cook and barbecue fanatic.
---

Amateur cook and barbecue fanatic.