You Can't Read That! is a periodic roundup of news about banned and challenged books.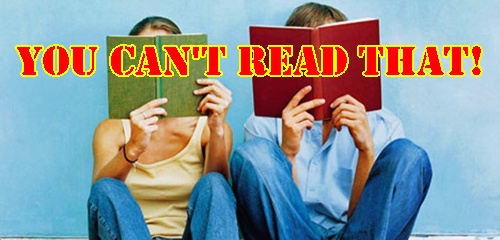 I thought this article about the still-widespread opposition to ebooks was interesting, particularly this paragraph:
Add to that the e-book's ease of transport, its international vocation (could the Iron Curtain have kept out e-books?), its indestructibility (you can't burn e-books), its promise that all books will be able to remain forever in print and what is more available at reasonable prices, and it becomes harder and harder to see why the literati are not giving the phenomenon a more generous welcome.
An obituary of Barney Rosset, pioneering publisher of banned books and tenacious champion for writers who were struggling to be read in America.
More on the campaign to ban The Absolutely True Diary of a Part-Time Indian from 9th grade classrooms in New Jersey. Why is this one of the most-challenged books in the USA? Last year I decided to find out, so I read it. And then I reviewed it. It's clear to me that those who want to ban it haven't read it.
"A book too embarrassing to read." Why we can't allow black prisoners to read about the imprisonment of blacks.
Dear Tucson School Board: please ban my books, too!
Here's some interesting background on Tucson school district politics, and how a school board that used to represent a majority Hispanic community was taken over by the racist right, resulting in the cancellation of Mexican-American studies classes and the mass confiscation and banning of textbooks.
The scandal over the banning of books in Tucson schools continues to draw national and international condemnation. Locally, though, you'd almost think there's a news blackout. To stay abreast of developments, I follow the outstanding American Indians in Children's Literature blog. It is there that I just learned that in addition to SB 1467, the bill before the Arizona Senate that would ban any book containing profanity from state classrooms (see my last column for more on SB 1467), a new bill, SB 1202, would ban schoolbooks found to be partisan. How much do you want to bet the bill's sponsors won't find conservative books partisan?
"Nothing in the legislation requires schools to offer the courses." Uh huh. In light of some of the Arizona legislation discussed above, I'm sure you'll forgive my skepticism.