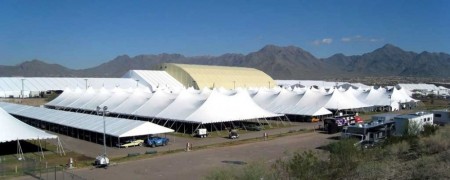 Three years ago I visited the Barrett-Jackson auto auction in Scottsdale, Arizona.  I figured it's been long enough, so yesterday I drove up again, this time with my friend Ed.  It was a long day: two-and-a-half-hours on the freeway going and coming; another four or five hours tramping around the tent city at Barrett-Jackson, ogling all the beautiful cars.
Update (1/28/12):
The event runs from Tuesday, Jan 17th to Sunday, Jan 22nd.  The auction itself doesn't start until Wednesday, and it reaches critical mass during the weekend, when the really good stuff goes on the block.  Last time I went on Tuesday, opening day, before the auction started.  Not all the cars were on display yet, but plenty were, and I pretty much had the run of the place.
This time I went on Thursday.  With the auction underway, crowds were huge.  It was like being at a state fair.  People were constantly bumping into me … and I into them … and almost every time I tried to take a photo of an interesting car, someone would walk in front of my camera.
Annoying crowds aside, Barrett-Jackson is probably the best car show on the planet, at least in terms of the number of cars there are to look at, and I'm glad I went.  Ed has been to B-J many times, and he was a great guide.  At his suggestion we opted for valet parking, which meant we didn't have far to walk, and that turned out to be a prescient move: on our way out Ed stopped to dicker with a guy who restores old gasoline pumps, and we wound up carrying an old (and heavy) gas station air pump out with us.  Thank goodness we didn't have to walk a mile back to the car, as I did three years ago!
© 2012, Paul Woodford. All rights reserved.