Just back from my Tuesday morning bicycle ride, a 12.5 mile loop through neighborhoods near my house.  When I ride from home I take one of two routes, both mapped out so that I get 9-10 miles in before stopping at the coffee shop 2.5 miles south of here.  I'm one of those people who can't enjoy a break in the middle of a job, but if I take it when the job's almost over everything's cool.  Knowing I've ridden 3/4 or 4/5 of the way makes the difference … I can enjoy my coffee free of guilt, now that it's just a short ride home.  And if my inner puritan does act up, I remind him that the last 2.5 miles are all uphill.
——————–
Last night, walking our dog downtown on our weekly Meet Me at Maynards route, we strolled through the Occupy Tucson encampment in Armory Park.  I took a cell phone photo that proved too crappy to post here, so here's a newspaper photo from Saturday, when the protesters first moved into the park (very much like the scene I tried to photograph last night):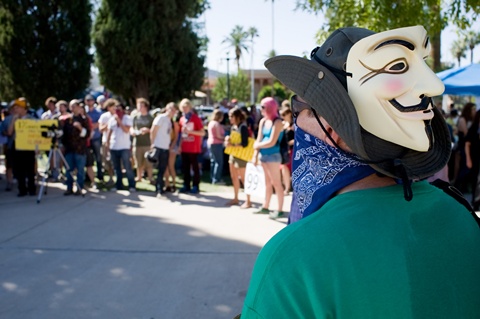 It was a small crowd, probably less than 100 people, mostly university students.  When they set up camp over the weekend 32 were arrested.  A lot of cops were hanging out on the edges of the park last night, and I got the impression they were going to move in as soon as it got dark.  The city doesn't want protesters sleeping in the park (though they seem fine with the homeless people who sleep there all the time).  I don't know that our local protest will develop the momentum it has developed elsewhere, but good on 'em for trying.
Walking through the park I saw a misspelled protest sign propped up against one of the protesters' tents.  Can't remember what it said, but it started with "Devided We Fall" … I wanted to photograph it but was too depressed to act on the impulse.  Surely no one on our side would show up at a protest with a misspelled sign!  When I got home I decided that sign must have been painted by a James O'Keefe wannabe, some sort of teabagger infiltrator or agent provocateur.
——————–
We had company this weekend, old friends stopping over on their way home to Los Angeles from last weekend's InterAmericas Hash in Savannah, Georgia.  Sunday morning I took them to one of Tucson's prime attractions, the Arizona-Sonora Desert Museum, and just by luck we got there in time for the raptor free flight demonstration.  Docents brought out several raptors who flew from tree to tree over museum visitors' heads: we watched a pair of ravens, a great horned owl, a grey hawk, a prairie hawk, and my favorite, a ferruginous hawk: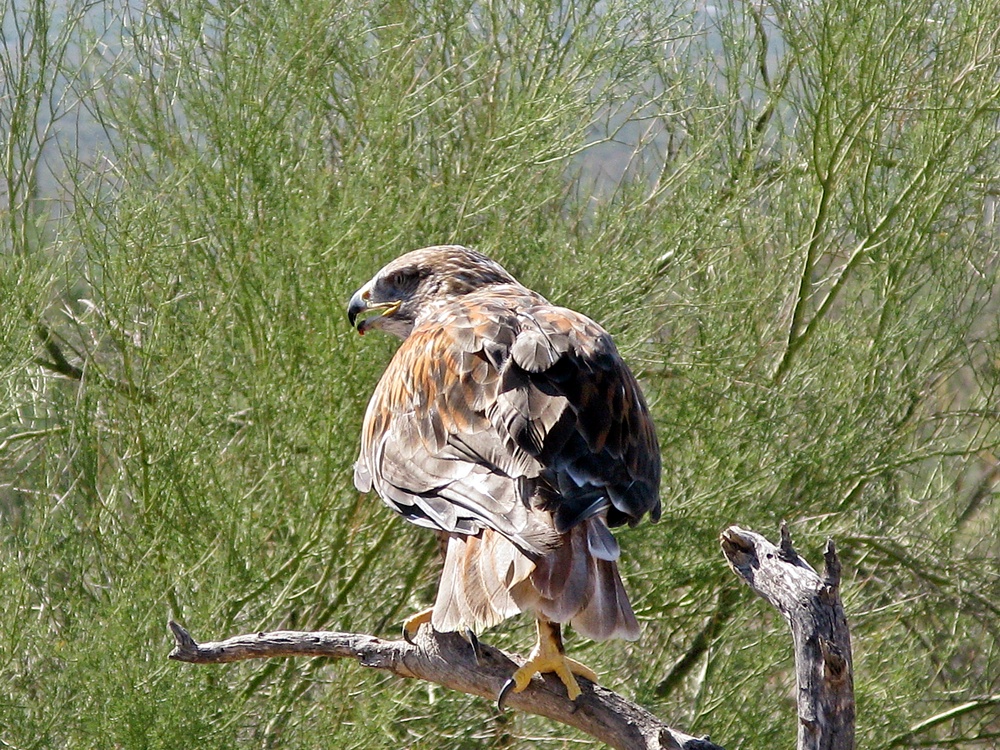 The ferruginous hawk was performing in her first live show and was shy of the crowd.  Unlike the other birds on display, this type of hawk prefers the ground to branches or rock ledges, so she spent most of her time hopping around on the sand where few of the visitors could see her.  At one point a docent's helper lured her up onto a branch with a piece of meat, and luckily enough I was close enough to get this photo.
Damn, now I miss our our old Blue & Gold Macaw, Buckwheat.
© 2011, Paul Woodford. All rights reserved.