My sisters and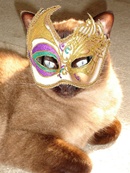 I grew up in a non-Mardi Gras home: Mom, like all Southern Baptists, observed Lent the whole year round; Dad, an agnostic, pretty much did whatever he wanted to do regardless of the time of year.  I married a Catholic girl, but Mardi Gras wasn't part of her family's tradition either.  Oh, Ash Wednesday and Lent for sure, but no pre-Lenten revelry, no last-minute letting down of hair.
I walked away from religion as a teenager, but that didn't cut me free from those Southern Baptist roots.  I'm not only a Puritan at heart, these days I don't even drink.  Basically what I'm saying is that I'm the last person you'd come to for Mardi Gras bloggage, but hey, what a great cat-in-a-Mardi-Gras-mask photo!
So party on, y'all.  Laissez les bons temps rouler!
——————–
Kim Jong Il, you're killing me!  Here are three sequential headlines from today's KCNA website:
US-S. Korean Joint Military Drills Censured
US-S. Korea Joint Military Exercises Slashed
US-S. Korea Military Exercises Flailed
… and an excerpt from the first article:
The United Confederation of Koreans in Sakhalin, Russia in a statement on March 3 berated the madcap Key Resolve and Foal Eagle joint military exercises.
Kim can't be too pissed off, though … he didn't threaten to turn Seoul into a sea of fire.  Let the madcap military exercise of the bellicose US Imperialists and their puppet government rage on!
——————–
This morning I came across a guy selling a "1971 Moto Guzzi AMBASSADOR, ELDORADO, CAFE RACER" on eBay. The accompanying photo shows a bolt-stock 1971 Moto Guzzi Ambassador, and the writeup confirms it: the motorcycle has been "restored to original specifications."  Now I like old stock Guzzis, but a stock Guzzi is not a cafe racer.  Cafe racers are modified motorcycles, stripped for speed, usually with improved suspension components, clip-on hand grips, elongated fuel tanks, and solo saddles.
| | |
| --- | --- |
| Guzzi for sale on eBay | Guzzi cafe racer conversion |
There's a motorcycle show on the Discovery Channel called "
Cafe Racer
"; for a welcome change, a motorcycle show that's not Harley-centric.  Suddenly cafe racers are hot again, and here's a guy trying to get top dollar for an old motorcycle by calling it a cafe racer.  Republicans do the same thing, calling themselves the party of fiscal conservatism when in fact they're anything but.
——————–
Interesting.  MSNBC's Chris Matthews picks up on Mau-Mau Mike Huckabee's blatant race-baiting.  Please forgive me for noting that I said it first.
——————–
Saturday morning I went on a bicycle ride with my Trail Trash friends.  We stopped at Saguaro National Park East on Old Spanish Trail (the trail the Trail Trash is named after) and after a short break got back on our bikes to ride back to the start.  My bike felt funny, as well it should have … there was a thorn in the front tire and it was partially deflated.  Whenever I have to replace a tube everyone watches closely, so it turns into not just a repair job but a demo on how to do it.  I've had a lot of practice replacing tubes, but even so, with three people watching intently you'd think I would fumble a bit.  Not so … it was the quickest, most trouble-free tube replacement I've ever done.  One of these days some other Trail Trash member will get a flat and I'll be a spectator.  Won't that be nice?  Not that I'm wishing a flat on anyone!
© 2011, Paul Woodford. All rights reserved.