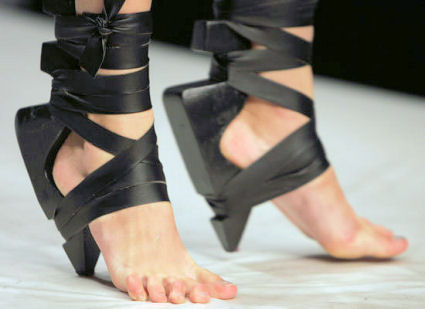 Two miles into a bike ride this morning my rear tire blew.  Donna and I carry spare tubes and can fix flats, but this was the tire, so I was pretty much out of luck.  The group I was riding with was ahead of me but someone saw me stop, and pretty soon Donna doubled back.  She offered to pedal back to the start, get the car, and meet me at the nearest road intersection (we were on a bike trail beside a dry riverbed, a few blocks from any road).  Naturally I said "No, go catch up with everyone else and finish your ride, I'll just walk the bike back to the car. "
Have you ever walked a couple of miles in bicycling shoes?  I do not recommend it, but once I sent Donna off there was no way I was going lame out and call for help, so I sucked it up and clickety-clacked my way back to the car.  It's a miracle I didn't get blisters.  Next time I'll accept help when it's offered.  Well, at least I got some exercise in.
On the way  home I dropped the bike off at our bicycle shop.  They just called to tell me Specialized was covering the tire, so I got it fixed free.  That's an unexpected silver lining, and it makes me glad we support our neighborhood bicycle shop . . . they look out for their customers.
Polly moved to Las Vegas and wants us to bring her bicycle when we drive up for a visit later this week.  It's been hanging in our garage, and now I'll have a spare bicycle hanger.  Time to get a mountain bike.  More business for my neighborhood bike shop!
© 2009, Paul Woodford. All rights reserved.