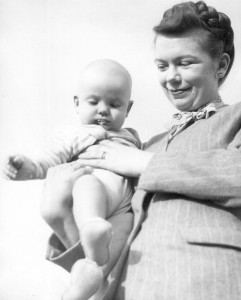 My birthday, once again. I'll be completely honest with you: I'm 66 years old today. To me, people in their 70s are old. I don't care how many well-meaning people say 70 is the new 60, 70 is old. And my 70s loom ever closer.
So I have a proposal, one I think my fellow 66-year-olds will like: let's add some teens to our 60s. As in: the birthday after our 69th will be our 60-11th. We shouldn't be greedy … we don't need a full decade of 60-teens, maybe just half a decade. We'll turn 70 after our 60-15th. Fair enough? Great, I'm glad we agree! It's a done deal. Okay, I feel somewhat better now.
My birthday present this year was a Roku box and a Netflix streaming plan. I've already watched one MST3k oldie and finished season one of Breaking Bad. Donna asked me what I wanted for dinner tonight and I said wiener schnitzel.  Is it schnitzel or schnitzels? 'Cause I'll probably have two.
My first visit to the orthopedic surgeon is tomorrow, an initial consultation. I hope he'll agree to a short bicycle ride Saturday morning … a friend is organizing a bike-to-beer neighborhood ride and I don't want to let her down (I'll do the ride but skip the beer). Aside from that I'm pretty much immobile these days. Yes, it sucks. Thanks for asking.
Still anxious about my friends, the ones who were nearly killed in that car accident last week. Both are still in hospital, and he's still heavily sedated … but at last report the swelling from the concussion has gone down, and that's encouraging.
Polly takes her motorcycle safety course this Saturday and Sunday, and then she'll start riding the Ducati to work. I took her shopping for motorcycle gear the other day and was happy she picked out a high-visibility helmet and jacket. I was afraid she'd want matte black to match the paint on her bike, but she went with colors not found in nature. Here she is, practicing on the street in front of our house: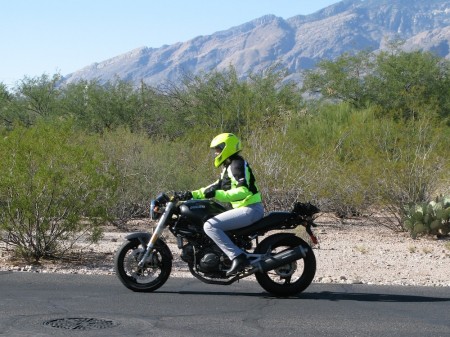 If I can have one more birthday wish, it is this: that she'll be safe on that motorcycle.
© 2012, Paul Woodford. All rights reserved.