Ditalini's Linguini w/White Clam Sauce
July 24, 2010
Ditalini made her version of linguini with white clam sauce tonight, based on a Food Channel recipe that has long been one of our favorites.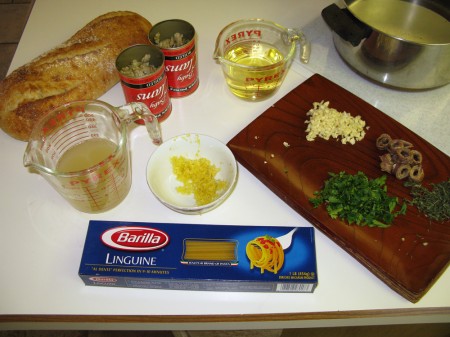 Ingredients
1/4 cup olive oil
1 tsp red pepper flakes
4-6 cloves garlic, chopped
1 small can anchovy filets
2 tbsp fresh thyme (1 1/2 tsp dried)
1 cup dry white wine
1 cup clam juice
2 cans whole baby clams
zest of 1 lemon
1/4 cup parsley, chopped
1 lb linguini
salt & pepper to taste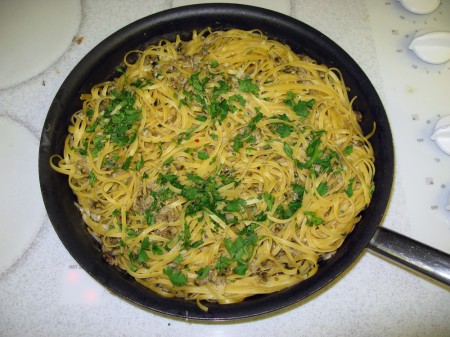 Directions
At medium heat, add olive oil to skillet. Add pepper flakes, garlic, and anchovies. Cook until anchovies dissolve. Add thyme and wine, reduce a bit. Add clam juice, stir in clams, lemon zest. Drain cooked linguini, add to skillet and toss until well mixed. Add parsley, ground black pepper and salt to taste. Serve with crusty bread.
© 2010, Crouton deMenthe. All rights reserved.
---
About Crouton deMenthe
Amateur cook and barbecue fanatic.
---

Amateur cook and barbecue fanatic.