You know, if you've never read news from the Democratic Peoples' Republic of Korea before, you might be inclined to take something like this seriously: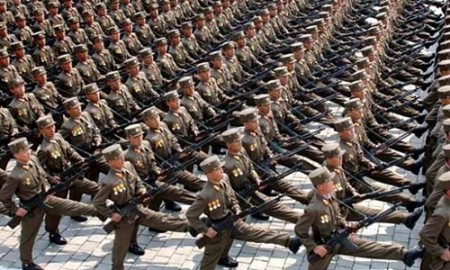 All Service Members Are Waiting for Order to Fire
Pyongyang, March 16 (KCNA) — All servicepersons of the Korean People's Army, fully ready to launch a sacred war of retaliation with a will to wipe out the enemies, are just waiting for an order to shower fire on them.The sacred war of Korean style is a manifestation of the resolution force with arms the Lee Myung Bak group of traitors to pay a thousand-fold dearer price for the thrice-cursed crimes against ethics and morality and glorify the history of the great sun for all ages. It is also aimed to hold in high esteem Kim Jong Un, another peerlessly great man who is identical to general secretary Kim Jong Il, and implement the leader's last instructions for national reunification at any cost.

The above-said war to eliminate such traitors as Lee Myung Bak, Kim Kwan Jin and Jong Sung Jo with arms of Mt. Paektu is the storm for self-destruction they have invited themselves.

It will result in making a clean sweep of the worst traitors who hurt the dignity of the supreme leadership of the DPRK in a bid to prolong their dirty remaining days and getting the pent-up grudge of the nation settled without fail.

Those conservative media and all hues of riff-raffs in south Korea who had been involved in the Lee group's racket for confrontation with the DPRK even a bit will never escape the strike of the DPRK style.

The world will clearly witness the inexhaustible and tremendous might of Kim Il Sung's nation, Kim Jong Il's Korea where all service personnel and people have risen up in the spirit of Mt. Paektu to protect the dignity of its supreme leadership.
On the other hand, if you are familiar with DPRK rhetoric, you'll recognize this as everyday North Korea-speak.  It's what they'd say to you if they were inviting you for a cup of tea.  Or throwing your family into a prison camp.
I wonder how we'll be able to tell when they're really angry?
Seriously, there's hours of entertainment at the link.  It's better than The Onion.
© 2012, Paul Woodford. All rights reserved.