Crouton's 15-Bean Soup
October 14, 2009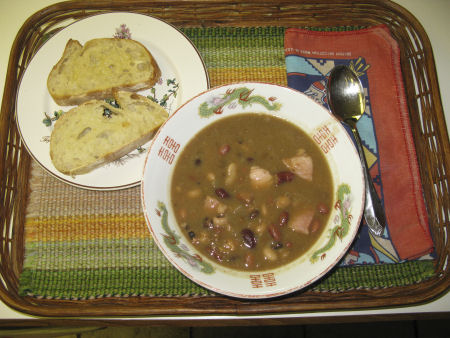 Crouton's 15-Bean Soup
Servings: 4
Difficulty: medium
Ingredients
1 pkg 15-bean soup w/ham flavoring packet
1 medium onion
2 cloves garlic
1 smoked ham hock
2 cans vegetable broth
water
salt, pepper to taste
1 bay leaf
1 ham steak, cut up
Directions
Cover beans with water and let them soak in a pot overnight. In the morning, drain and rinse the beans, return them to the pot and add enough vegetable broth and water to cover the beans. Add chopped onion, garlic, salt and pepper, bay leaf, ham flavoring packet, and ham hock. Bring to a low boil, reduce heat, partially cover, and cook on low heat (barely bubbling) for 2-3 hours. Remove ham hock with tongs and throw away. Add ham, then cook on low heat, uncovered, for another hour or so. Add water periodically to keep the beans covered and to keep the soup from getting too thick.
Serve with crusty bread.
Notes
I had a small piece of salt pork in the freezer, so I used it along with the ham hock, removing and discarding both at the same time. I've prepared this recipe many times with just the ham hock, and frankly didn't find that the salt pork added anything to the flavor.
---
About Crouton deMenthe
Amateur cook and barbecue fanatic.
---

Amateur cook and barbecue fanatic.