Preserving Lemons
January 29, 2010
Preserved lemons have many uses, but we primarily use them to prepare two Moroccan recipes: Chicken Tajine (aka Rotten Chicken), and Chicken Tajine w/Harissa, Artichokes, & Grapes.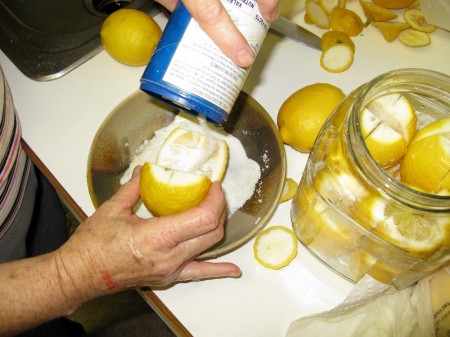 Preserving Lemons
Servings: n/a
Difficulty: medium
Ingredients & Equipment

6-12 lemons
sea salt or kosher salt
1 qt fruit jar w/lid
Directions
Prepare preserved lemons 4 weeks ahead of need.
Cut the ends off lemons. Placing lemons vertically on their ends, cut in quarters but not all the way through. Spread lemons open and cover with sea salt, inside and out (you can also use kosher salt). Place lemons in fruit jar, packing them down and adding more salt.
Seal the jar and let sit at room temperature for a couple days. Turn the jar upside down occasionally. Put in refrigerator and let sit, again turning upside down occasionally, for 4 weeks, until lemon rinds soften.
To use, remove desired number of lemons from the jar and rinse thoroughly to remove salt.
You can store preserved lemons in your refrigerator for up to 6 months.
© 2010 – 2021, Crouton deMenthe. All rights reserved.
---
About Crouton deMenthe
Amateur cook and barbecue fanatic.
---

Amateur cook and barbecue fanatic.