Tuesday is a packing day: packing, that is, for a five-day solo motorcycle trip from Tucson to Flagstaff, Las Vegas, Laughlin, and back again.  It's an art … even with a Goldwing, luggage space is scarce … and certain things need to be placed where they'll be easily retrievable: bad weather helmet, maps, camera, cell phone, water, rain gear, my Nook and glasses for lunch breaks, and so on.  I find myself getting overly anal about situating everything just so … and then there's the pistol.  That particular item produces no end of anxiety.  I'm tempted to leave it home, and I would, too, if I hadn't told Donna I wanted it specifically for motorcycle trips.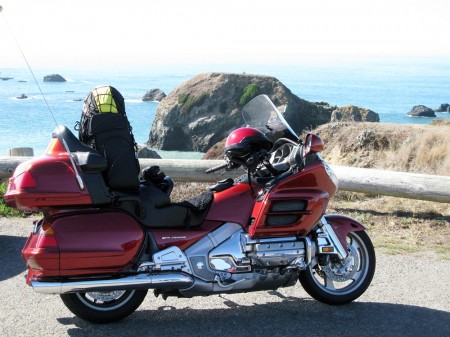 I'm riding north early tomorrow morning, hoping to get to higher elevations before the sun gets too high, taking two-lane state highways to Oracle and Globe, then through Mogollon Rim country to Payson, Pine, Strawberry, Clints Well, and on to Flagstaff, where I'll spend the night at Fort Tuthill.  Thursday morning I'll bomb down I-40 to Kingman, then head north on Highway 93 over the new Hoover Dam bridge to Las Vegas.  Friday I'll make a biker's pilgrimage to the annual River Run at Laughlin, then spend Saturday with the kids in Vegas.  Sunday I'll ride home on Highway 93 to Kingman, Wickenberg, and Phoenix, then take I-10 to Tucson.  There's no way to avoid the heat on the way home, so I'll just have to hope for rain.  Actually, according to the forecast, I am likely to get rain, but it'll be on Thursday while I'm riding from Flagstaff to Las Vegas.  Oh, well, I'll just have to make sure I stop frequently and drink lots of water on the hot ride home.
I'm averaging one good ride a year.  I'd like to take another one in the fall, but we'll have to see about that.  Donna and I plan to drive to California at the end of May and spend ten days there, visiting friends and hashing in the Bay Area.  Unless the price of gas collapses between now and then, that trip will wipe out our discretionary travel fund for the rest of the year.   Oh, well, there are lots of great day ride destinations for southern Arizona motorcyclists: Patagonia, Tombstone, Bisbee, Globe, Arivcaca, Kitt Peak … and when it gets up into the hundred and teens (which'll be real soon now), there's always Mount Lemon.
I'm off to the airport in an hour to pick up Donna.  She flew to Las Vegas last week for our granddaughter Taylor's confirmation.  The kids had their mom for a couple of days, and now they're going to have me.  I hope they still love us!
Bloggage will be light to nonexistent the next few days, but I'll be posting OTR (on the road) status reports to Facebook & Twitter, so look for me there.  Until then, you all ride safe, hear?  And I promise to do the same!