No, I didn't remember our anniversary one day late … I just didn't get around to mentioning it here until the next day.  There is a difference, right?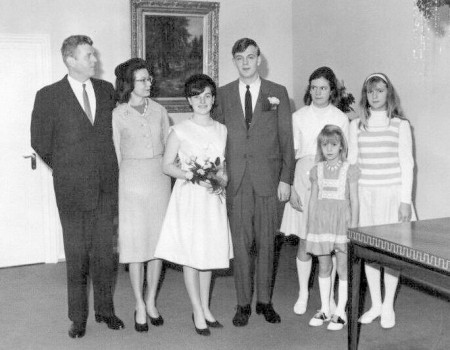 God, so young, so scared!  Well, here we are 46 years later, and it's still scary if we think about too hard, so we mostly don't.  Except for yesterday, of course. Those are my parents, Charles and Eileen, and three of my sisters: Mary, Charlie, and Cece.
We were married by a German judge in a civil ceremony at the courthouse in Wiesbaden.  It was early on a sunny morning, and when we came out onto the street afterward kids were walking to school.  Three of them stopped and sang a little song to us, sort of a "Hans und Lena sitting in a tree, K-I-S-S-I-N-G" ditty, very cute and innocent.  That's what we were remembering yesterday, that and our wedding dinner that night.
Mom and Dad took us to the Officers' Club, which in those days was a former grand hotel, the Von Steuben, appropriated by American forces at the beginning of the occupation.  The hotel had a retired concert pianist on staff who played every evening; we listened to him while we ate chateaubriand and sipped a German liqueur called Goldfischwasser (think Jägermeister with little gold flakes floating in it).
One other memory, as long as I'm walking down that lane … since we were married under German laws, we had to go through the banns, waiting to marry until our names had been listed in the Wiesbaden newspaper for two weeks so that anyone who had reason to protest our upcoming marriage could come forward.  A nice custom, although at the time we thought it awfully old-fashioned.
You know, at the rate we're going, we might just make 50 years.  Keep your fingers crossed for us, okay?