Okay, just one more puppy entry, then I'll quit.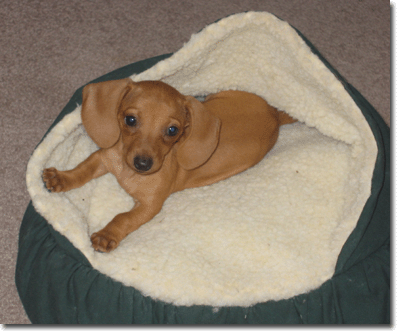 Schatzi's been here a week and a day. My life now centers around doggy doo. But, hey, who says housebreaking a puppy has to be drudgery? Oh, yeah . . . everybody. Still, it's remarkable how much progress she's made. She's gone from crapping in the the back yard only because I stood there with her until she finally had to go, all the way to running out back by herself and pooping on her own, which (I think) means she's getting the concept. Oh, and get this — when I have her locked in the guest bathroom at night, she uses the litter box I put there (an idea I got from my sister — thanks, Cece!). Donna's in Las Vegas, babysitting our grandchildren while our son and daughter-in-law take a vacation. At this rate, by the time Donna gets home we'll have a housebroken dog. And Donna's gonna owe me, big time.
© 2005 – 2009, Paul Woodford. All rights reserved.