Mount Lemon, that would be, just a 26-mile ride from my home at the base of the Santa Catalinas in northeast Tucson.
We finally had a good monsoon rainstorm yesterday, and when I woke up this morning the sky was still overcast.  I decided to get the Goldwing ready for a ride anyway, and that turned out to be the right decision … an hour later the sun had burned the overcast away.
When we get our monsoon the temperature drops a little, but the humidity goes up to such an extent you still feel just as hot.  We're right at the base of the mountain, though, and after riding only a few miles I was at 5,000 feet and climbing, perceptibly cooler.  By the time I got to the top, about 8,200 feet, it was down in the mid-60s, a great relief.
When we first moved here sections of the road up Mount Lemon were placarded at 50 mph; today the speed limit's 35 all the way up and back down again.  There are a lot of tight curves and hairpin turns to slow traffic down, but usually people drive the mountain around 40 to 45 mph; motorcyclists about 5 mph faster.  Except there's always one asshole who takes it upon himself to enforce the speed limit, and every now and then a timid soul doing 25 mph.  Drivers like that never use the pullouts to let anyone pass.  With all the blind curves, there are only a few places where motorcyclists can zip around a slow cager, and cagers can pretty much forget passing altogether.  This morning I was at the back of a 10-car, 3-motorcycle gaggle stuck behind a timid soul.  I knew I'd never be able to pass, so I stopped in a pullout and enjoyed the view for a few moments before pressing on.  After that I had the road to myself and could ride the Wing like it's meant to be ridden.
At the top I stopped in the little ski village of Summerhaven and had lunch at the new Sawmill Inn, sitting on the patio with a mostly biker crowd.  Earlier, I'd been wondering about the two guys on one of the motorcycles a few places ahead of me in that slow gaggle.  You don't see guys riding two-up in this country, and certainly not on a Harley, but that's what it appeared to be.  At the restaurant, I wound up sitting one table away from them, and they turned out to be, of course, two mannish women with short hair dressed in blue jeans and denim shirts.  If they'd been wearing helmets I would have just assumed they were women; their short hair, more than their clothing, was what fooled me.  Such a rube I am.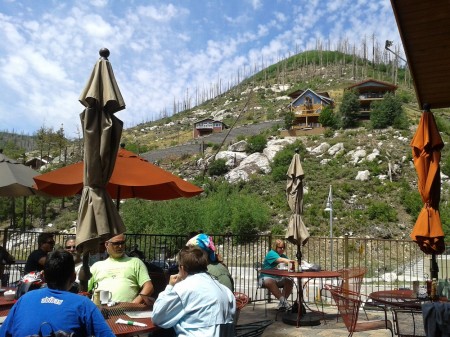 As you can see from the photo, the damage from the 2003 fire is still all too evident.  The cabins are new; what was there before burned to the ground.  Rebuilding structures is one thing; it'll be years and years before the forest comes back.  It was a hell of a fire; I hope we don't get another like it for decades.
The ride down the mountain was, for the first 15 miles, pure biker bliss.  The few cars I came up behind ducked into pullouts and let me by, and I swept through the curves.  Approaching Molino Basin I saw a Pima County Sheriff car and a Rural Metro fire truck in the parking area by one of the hiking trailheads; there wasn't a wreck or any fire that I could see, but obviously something was going on (I didn't slow down to gawk, so I don't know what).  A couple of miles farther down I pulled over for another cop racing up the hill, lights flashing and siren blaring; two more miles down I pulled over for another; two more miles down I pulled over for yet another.  I always wonder why so many cops respond to incidents like this.  Is it like a multi-alarm fire, where they call one fire company at first, then another and another?  Or is it that the cop on scene radios for backup and every cop who gets the message responds?   In this case I suspect the latter … who wouldn't jump on an excuse to drive up the mountain on a hot day?
The only bad part of these little summertime Mount Lemon runs is coming back down into the heat sink of Tucson, feeling the temperature build and build as you descend.  Astronauts re-entering Earth's atmosphere must experience something like this. I'm blessed to live at the bottom of the mountain … if I had to go clear across Tucson to get to the Catalina Highway I might not ride during the summer at all.  And that would be tragic.
Speaking of motorcycles, the project Ducati — I know, I know, it's not a project bike if you don't do the work yourself but rebuilding Ducati carburetors is not in my bag of tricks and my motorcycle guru friend Ed didn't want to touch the damn thing either so I took it to a Ducati mechanic and what's it to you anyway, so there — is almost back together and ready to ride.  There was one missing part, a section of the airbox that got lost in the shuffle, so I bought a replacement airbox on eBay and handed it to the mechanic on Friday.
The Duck should be ready by Tuesday or Wednesday.  It's not registered and there are no plates, so I'll be trailering it home.  Once I get it registered I'll ride it to make sure everything's up tight; meanwhile Polly will take a motorcycle safety class and get outfitted with a helmet and gloves.  As soon as it gets a little cooler … and she finishes her beginning rider's course and gets her motorcycle endorsement … I'll take her on a few Sunday morning rides and try to teach her some of the survival skills I've learned over the years.  A ride or two up Mount Lemon will definitely be part of the curriculum.
© 2012, Paul Woodford. All rights reserved.