This is my interpretation of spaghetti alla puttanesca (whore's spaghetti), a simple yet robust pasta dish that's easy to make with around-the-house ingredients (well, our house anyway).  Don't be squeamish about the anchovies . . . they add flavor to the dish, but without the strong salty taste people associate with anchovies on pizza.  You can make the sauce with or without tomatoes.  If you want to make a fancier meal, serve it with salad on the side.
Ingredients
1 tbsp butter
3 tbsp olive oil
4-5 garlic cloves, sliced thin
2 cans rolled anchovies w/capers, drained (or flat anchovies and capers, as in photo)
1 can diced tomatoes (ignore the photo, only 1 can)
salt & pepper to taste
red pepper flakes to taste
pinch of dried basil (or 1 tbsp chopped fresh, as in photo)
pinch of dried oregano (or 1 tbsp chopped fresh, as in photo)
pasta (your choice)
Parmesan cheese
Directions
Drain the anchovies.  In medium frying pan, heat butter and olive oil.  Add garlic and anchovies, sauté lightly.  Break up and mash anchovies as they cook.  When garlic and anchovies are ready, add tomatoes (with juice from can) and spices.  Let sauce simmer for about 20 minutes.  Boil pasta in separate pot, drain.  Return pasta to pot.  Add the sauce and toss until the pasta is coated.  Serve with crusty French or sourdough bread and freshly-grated Parmesan.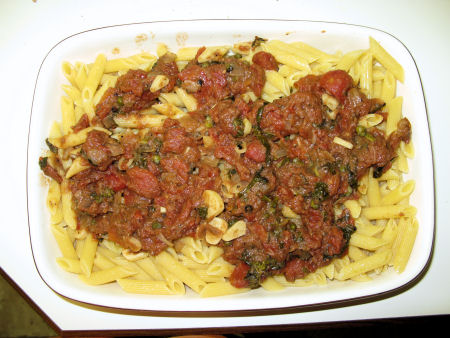 Notes
Donna and I have prepared this dish with all kinds of pasta.  We prefer it with the chunkier pastas — penne is our favorite.  If you don't like tomatoes, just leave them out.
© 2009, Crouton deMenthe. All rights reserved.
---
About Crouton deMenthe
Amateur cook and barbecue fanatic.
---